Palaye Royale, Music: Not Impossible team up for accessible show
How can concerts be made more accessible for hearing-impaired fans?
To make a recent Las Vegas show more all-encompassing and welcoming, Toronto-based band Palaye Royale brought in a few friends and some cool tech: a device from a company called Not Impossible that surrounds the body with vibrations and pulses to help "feel" the music.
The technology consists of a "vibro harness, two wristbands and two ankle bands. The device syncs with the live performance and each of the five areas vibrate along with it. The vibes can be adjusted from low, medium and strong vibes," AltPress explains.
The band played their songs, the concert attendees were geared up and got to experience the music, even if in a non-traditional way. The idea is very simple: make the songs more accessible and enjoyable for everyone, even those who might not rely solely on their ears. What's not to love?
Even better, the group brought out a sign language interpreter to perform with them, translating their lyrics into sign language. She mimed guitars and drums in addition to signing the lyrics and, according to the mother of the band's three brothers, the interpreter learned the words on the spot. Pretty impressive!
Music: Not Impossible explains the idea behind its wearable technology:
"In the near future, vibrotactile art will be an all new means of expression where we can appreciate rhythms, intensities and movements conveyed to the human's largest organ: The skin. Our system comprises a set of wearable devices, software, hardware and wireless communication. The wearable set includes a harness, two wristbands and two ankle bands, supplying eight distinctive areas of vibration across the user's body, or what we call a 'Surround body experience.'"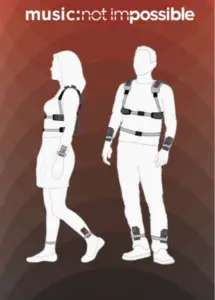 While rare, sign language interpreters are sometimes hired by bands or venues to stand off to the side of the stage during concerts to help people with hearing impairments enjoy the show as much as anyone else.
This past summer, an interpreter named Lindsay Rothschild-Cross stole the show during Lamb of God's tour. A video of her signing during their show in Austin went viral and she wound up being interviewed on Good Morning America and featured on CNN.
To help the people watching her, Rothschild-Cross told CNN she'll sometimes add adjectives to describe an instrumental solo. She can indicate pitch with facial expressions. During concerts, she's hooked up to the venue's sound board so the music is directly in her ears, without any outside noise to distract her. She's making it her mission to make concerts more accessible to ALL audiences.
Other interpreters have also made headlines in recent years, including one for Eminem…
https://www.youtube.com/watch?v=PvvmNqYUPro
…and, several years ago, a woman who signed during a Pearl Jam concert, only to dance with Eddie Vedder at the end of "Given to Fly."