Paul Stanley of KISS Has a Crater on Mars Has Been Named After Him. [UPDATE!]
Here's what we're talking about.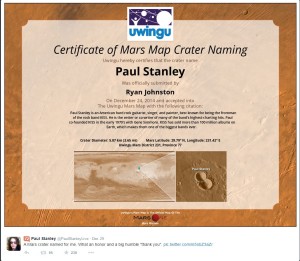 Cool, right?  But there are very specific rules for naming objects in space. Such nomenclature is governed mainly by the International Astronomical Union and can be queried through the SIMBAD website and the NASA/IPAC Extragalactic Database.
For example, you may have run across ads offering you the chance to "buy" a star in order to give it a name of your choice. Sorry to tell you, kids, but this is just a cash grab. This "name-f0r-cash" scheme has no validity whatsoever.  From the IAU website:
As an international scientific organization, the IAU dissociates itself entirely from the commercial practice of "selling" fictitious star names or "real estate" on other planets or moons in the Solar System. Accordingly, the IAU maintains no list of the (several competing) enterprises in this business in individual countries of the world.  Readers wanting to contact such enterprises despite the explanations given below should search commercial directories in their country of origin.
The IAU is equally adamant about naming everything out there: planets, moons, asteroids, comets, galaxies–and features found on the surface of extraterrestrial bodies.
Asteroids/minor planets:  Musicians.  Examples include 8749 Beatles, 19155 Lifeson, 12272 Geddylee and 23460 Neilpeart.
Craters on the Moon:  Dead scientists, scholars, explorers and artists.
Craters on Mercury:  Deceased artists, musicians, authors and painters. John Lennon has a Mercury crater named after him.
Craters on Venus:  Famous women and common female names.
Craters on Mars:  Dead scientists and writers who have contributed to the study and lore of Mars and settlements on Earth with populations of less than 100,000.
Ah.  Now we're getting to the crux of the issue.  Notice that there is nothing about Paul Stanley that qualifies him as a candidate for anything to do with Mars.
So who is this Uwingu organization? Nothing official, as far as the IAU is concerned.  They're one of these commercial organizations that keep their own unofficial map of objects beyond earth. [See update below] They make money by collecting 99 cents per vote. And while it may be true that "funds from each vote helps fuel The Uwingu Fund, providing grants to space scientists, space educators, and space projects in this time of government cutbacks," nothing they do has any official standing with the IAU.
UPDATE:  A couple of emails have come in from people defending Uwingu, claiming that their naming conventions are, in specific cases, equally as valid as those of the IAU.  See the comment below from Alan Stern, the head of Uwingu and the guy in charge of NASA's New Horizon's missing to Pluto.  That's gotta count for something, right?
I stand corrected.