Pearl Jam prepares to go Home
The last time Pearl Jam played in Seattle, it was a different world.
The year was 2013, which says a lot. They closed their Lightning Bolt tour at the KeyArena, which was filled to capacity, of course, as it always is when any band plays a show in their hometown. (That show ended a four-year absence, for those keeping track.)
The band will return for two similarly sold-out shows on August 8 and 10, and this time they've got a very clear purpose.
The Home Shows will help raise money and the all-inclusive "awareness" of homelessness in Seattle, a town with a history of young runaways living on the streets that's almost as mythic as the city's role in grunge. (There are Away shows too. Of course. Missoula, Chicago and Boston and 100% sold out.)
The Home Shows are everywhere in Seattle. From the moment of arrival, walking through SeaTac, where banners are proudly displayed not only announcing the shows but stating that, sorry, they're sold out. There are banners on buses. There are ads in newspapers.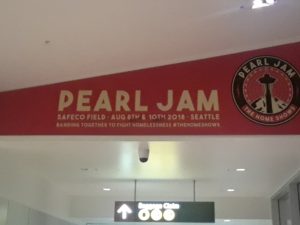 Pearl Jam knows many thousands more people wanted to attend the two concerts than will be able. They also know that their passionate fans will be interested in helping any way they can.
So they're being smart marketers: Limited edition bourbon, wine, chocolate, you name it.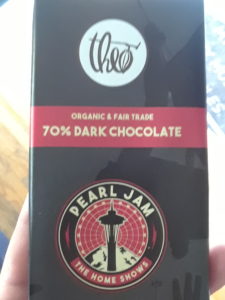 The festivities kicked off early to really ramp up the energy for the Home Shows.
On July 20, the band was welcomed and celebrated and featured prominently during a Seattle Mariners game. Fittingly, they were playing against Chicago – the White Sox, though, not Eddie Vedder's beloved Cubs.
For Ten Club members who bought a special ticket, there was a limited edition t-shirt with the band's name written in the colors of the MLB team. The shirts were first-come-first-served and, when the gate opened around 5:40 p.m. in advance of the 7 p.m. game, there was a small stampede of eager fans hoping to be among the lucky ones to get a shirt. They'd be doubly lucky if they got one that fit.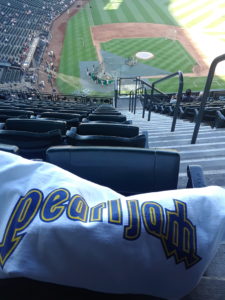 During the game, the concession stands were selling limited edition plastic cups in a deep red with the ubiquitous Home Shows logo emblazoned on it. At $12 a pop for the cup itself, let alone whatever you'd put it in (cheaper for a non-alcoholic beverage than a beer, naturally), it was yet another fundraiser the band was proud to offer.
On the stadium's first floor, there was a silent auction during the first few innings. Among the offerings: A ballcap with a fake mullet attached, a signed baseball, a signed Mariners jersey, a copy of the PJ20 soundtrack on vinyl autographed by the band, an autographed copy of the Benaroya Hall concert on vinyl (which many fans in attendance didn't know even existed).
There was also a four-pack of the previously mentioned wine. At one point early on, the price was up well over $1,000. I couldn't find any information on the band's website about how much it sold for but it was not cheap.
The band also teamed up with the locally based Heritage Distilling Company for a small batch of specially labeled Brown Sugar Bourbon, yet another fundraiser. Heritage Distilling sells this bourbon as part of its regular collection, but the batch made available on August 7 will include a $20 donation with each sale. (It tastes like candy. Worth the price of checking a bag on the flight back.)
Preorders were taken for the small run and, as of August 3, more than $55,000 had been raised toward the overall goal of $200,000.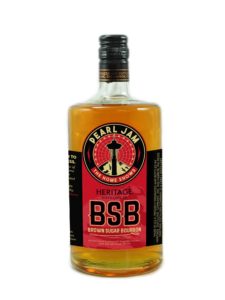 The Mariners game – which they won, by the way – started with Mike McCready and Eddie Vedder throwing out first pitches (Eddie cleared home plate, Mike… tried really hard), included PJ songs during breaks in the game and ended with a 15-minute fireworks show set to a selection of songs from throughout the band's career.
The 3,500 PJ fans at the game helped raise $54,000 that night alone. The band has set a goal of $1 million from the two Home Shows alone, in addition to all the branded products.
But why does this band care? Why lend their power and influence to a problem they've never had to deal with?
"I grew up here and I've never seen anything like this – none of us have," McCready admitted to the Seattle Times recently. "So what do you do? Do you just sit around and go, 'That's just how it is'? Or do you dig in and hopefully have organizations compromise or get together, figure out some sort of solution or long-term plan. … We don't know what the solution is, but we want to be part of some of it."
The $1 million pledge from the band has blossomed into a $10 million effort, including some 70 organizations and companies across the Seattle region. And it's not just the Mariners game and the two concerts – it's a whole WEEK of events, with promises from 80 restaurants to donate at least 10% of their sales on August 8 toward the effort. A local radio station, 107.7 The End is donating $2 from every ticket sold to one of its big summer concerts toward the project, and there's a new Pearl Jam exhibit at the Museum of Pop Culture opening August 11.
No single band can literally save the world. But good grief is Pearl Jam trying its hardest to make a difference, a tangible one that matters, in a city that's been so good to them for so long.