UPDATE: Pearl Jam tap Canadian photographer for artwork for new album, GIGATON (Oh, and the tour will start in Toronto)
For a band that's been around for 30 years and is one of the foundational building blocks of alternative rock, Pearl Jam is still looking for new ways to engage and elicit excitement in its fan base.
With rumours of their eleventh full-length album swelling, a dispatch was sent out socially with coordinates to locations around the world (including Toronto), as well as instructions to use Facebook or Instagram's augmented reality app. The prize for technophiles who ventured out was to see a mural of an ice cap in Norway come to anxiety-inducing life with melting water rapidly pouring down its sides. Pearl Jam's new seismic wave-type font is also visible over 3D clouds while ominous ambient music can be faintly heard. Canadian photojournalist Paul Nicklen captured the "climatic" moment in 2014, but reposted it to his Instagram account a few days into January to the anticipation of the PJ faithful.
Another Canadian – superfan "Demetrios" – did a great job artistically arranging the identical visuals from various cities. The new album is called GIGATON (due March 27), which is the unit of measurement to gauge the loss of ice in the Antarctic. It also means Pearl Jam probably have a lot of things to say about what's going on in the world.
Watch for a single called "Dance of the Clairvoyants" version soon.
The last angry salvo from them almost two years ago now was "Can't Deny Me", which Eddie Vedder SAYS isn't about Trump, but I don't know; the singer definitely didn't vote for George Dubya in the 2000s. Remember "Bu$hleaguer"? He even took a knee in support of Colin Kaepernick after the current US President first called out his protesting, so I know I'm not the only one who can't wait to hear what built-up frustrations come out in rock form.
Oh, and there's also a North American spring tour, the first live shows Pearl Jam are playing in a year and a half.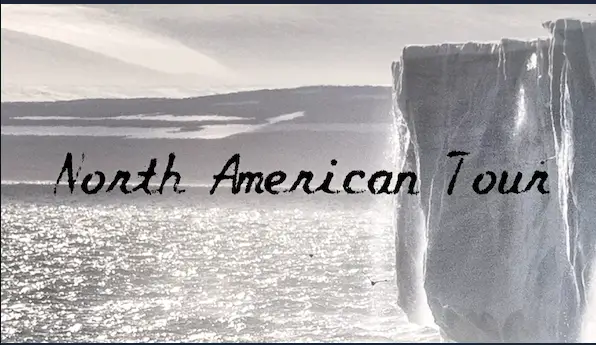 And yes, it will start in Toronto at the Scotiabank Arena on March 18, zip up to Ottawa, over to Quebec City and then double back to play Hamilton.
March 18 Toronto, ON Scotiabank Arena
March 20 Ottawa, ON Canadian Tire Centre
March 22 Quebec City, QC OVideotron Centre
March 24 Hamilton, ON FirstOntario Centre
March 28 Baltimore, MD Royal Farms Arena
March 30 New York, NY Madison Square Garden
April 2 Nashville, TN Bridgestone Arena
April 4 St. Louis, MO Enterprise Center
April 6 Oklahoma City, OK Chesapeake Energy Arena
April 9 Denver, CO Pepsi Center
April 11 Phoenix, AZ Gila River Arena
April 13 San Diego, CA Viejas Arena
April 15 & 16 Los Angeles, CA The Forum
April 18 & 19 Oakland, CA Oakland Arena
As usual, Pearl Jam is going to do their best to make sure that tickets go directly into the fans of fans. I quote from the band:
To give fans the best chance to buy tickets at face value for this tour, Pearl Jam has decided that tickets will be mobile-only and strictly non-transferable, except in NY and CO where transferability is required by state law.
A special Ten Club presale begins today, January 13th, for eligible members only. Click here for more details.
Public tickets will be sold first through a presale powered by Ticketmaster Verified Fan. Click here for more details.
For fans who are unable to use their tickets, Pearl Jam and Ticketmaster will offer North America's first Fan-to-Fan Face Value Ticket Exchange, which will allow fans to resell their tickets for the price they paid (including all fees). The Fan-to Fan Face Value Ticket Exchange will launch on February 18.
Fine. HOWEVER, we still don't know what's going on with this little treasure hunt.