Pearl Jam Twenty: More Like Pearl Jam Ten, Really–But That's Okay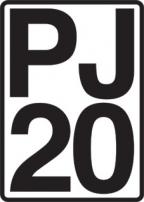 I call it "mission creep" and I can't tell you how many times it's happened to me.
I begin writing what I think is going to be a straightforward one-hour radio profile of an artist. At about 40 minutes into the script, I realize that I've only touched on the band's early days, so I make a call to stretch the profile to two hours. Then three. Then about halfway through the fourth hour, I think to myself "Time to wrap this up. Let's just skip to the end."
I have a feeling this is what director Cameron Crowe faced when creating the final cut of Pearl Jam Twenty. There is so much to the band's early history–the Seattle scene, Green River, Mother Love Bone, the death of Andrew Wood, the recruiting of Eddie Vedder, Temple of the Dog, Mookie Blaylock, the Ten album–that it takes a full hour to get to just Vitalogy. By the 90-minute mark of this two hour movie, we're only up to the band's tenth anniversary celebrations in 2000.
Editing this thing must have been a nightmare. Crowe said before the movie that it took three years–THREE YEARS–to wrestle Pearl Jam Twenty into some kind of manageable shape. There are tons and tons of quick cuts from an unimaginable number of video sources, all of which had to be sourced, collected and categorized before anyone the project could even start.
The enormity of that pre-production cannot be understated. Pearl Jam is one of the best-documented bands on the planet–and if you ever doubted that, you won't once you see some of that early archival footage. Where has some of this stuff been lurking? How did they ever find some of this footage? And how long with the inevitable director's cut be?
(Speaking of cool editing, there's a sequence of Pearl Jam performing Mother Love Bone's "Crown of Thorns" which features super-precise cuts of Eddie's audio synced film of Andrew Wood performing the song c.1989. Well done!)
It's tempting to compare Pearl Jam Twenty to From the Sky Down, the U2 documentary that opened TIFF on Thursday, but in reality, it's an apples-and-oranges situation, so I won't even try to say which one is "better." The U2 film is about a specific period in their career when they nearly broke up thanks to a crisis in confidence and a lack of creative spark. Telling that story requires a different sort of touch, one that allows the director to hopscotch through time.
Cameron Crowe at the premiere of Pearl Jam Twenty
Pearl Jam Twenty is a reasonably straightforward (auto)biography that's told in chronological form with a secondary arc that explores the changing personal dynamics within the band. That's a much easier thing to do from a story editor's point of view–but then again, there's the editing issue.
But like I said, doing things chronologically has its own perils, especially if your time limit is two hours. Beyond that, you'll have a hard time selling something like this to cable or brodcast TV. Mission creep has to held in check.
After about 100 minutes, the film gets much more general. Once the Binaural album is discussed, Crowe moves into a short study of the disparate elements of the band's overall personality. This includes reinforcing the love and committment each of the band members has for each other and how Pearl Jam moved from being Stone's band to Eddie's. (Watch for the quote from Neil Young where he urges the rest of the group to "keep up with Eddie.") Everything ends with a rousing version of "Alive" to underscore that Pearl Jam is still around, despite everything they've had to endure.
Some interesting notes:
Eddie really does have a fire pole in his house that leads from the upper floor to the basement.
Stone keeps his Grammy in the basement.
Jeff is the big collector of Pearl Jam stuff.
I'd forgotten how babyfaced Eddie was in the early years.
"Daughter" used to be called "Brother." There's a cool sequence on a tour bus where we see the song coming together.
The drummer situation is told in a funny self-contained 60-second burst, complete with Spinal Tap references.
Stone is terrible at doing the dishes. If you're ever at his house and he offers you a cup of coffee, ask to see the cup first.
There was a whole section in the theatre reserved for the band and their people but none of the band stayed for the screening. They were introduced onstage by Crowe, waved and then disappeared…somewhere.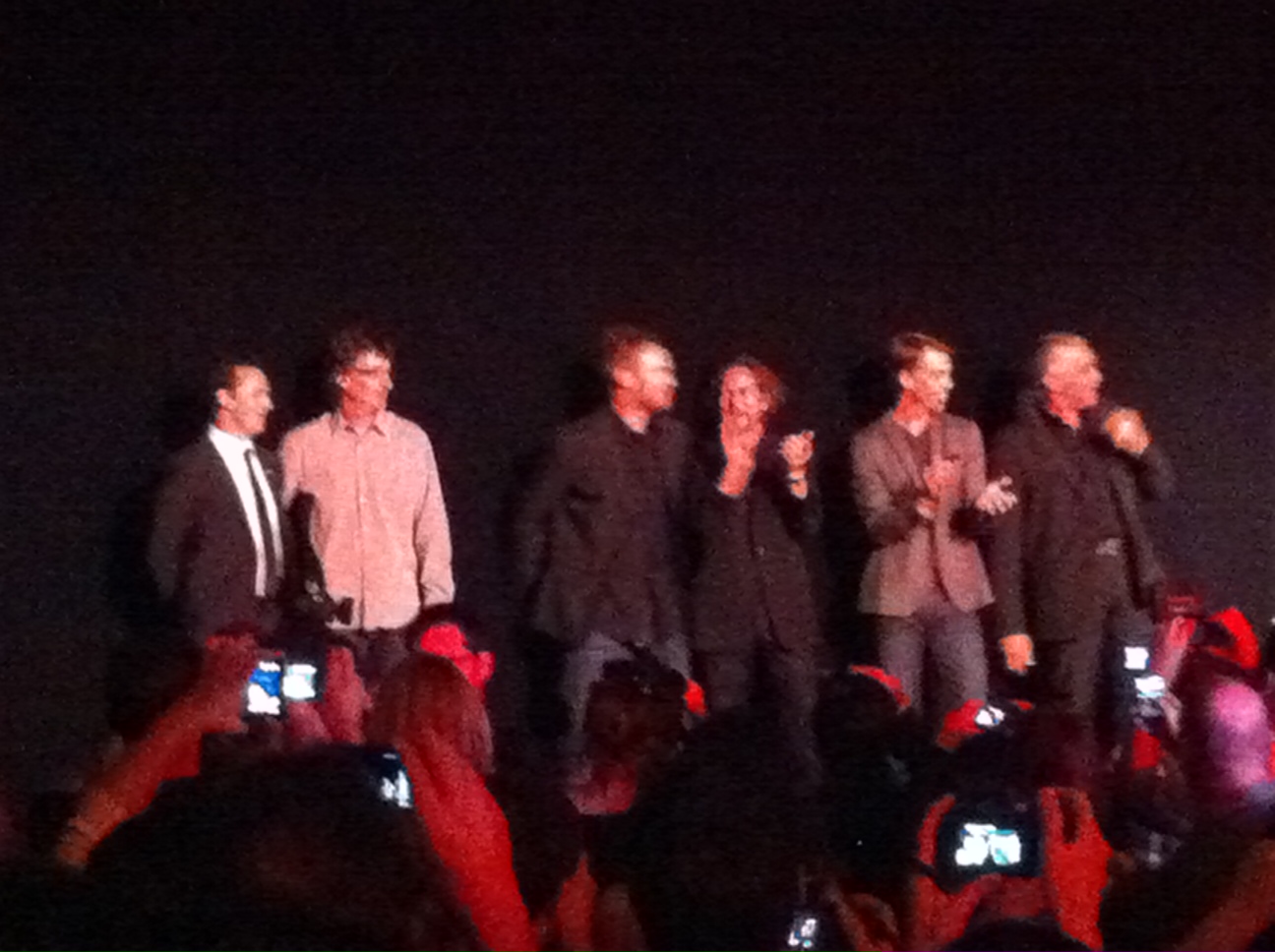 Pearl Jam and keyboardist Boom Gaspar
But that's hardly out of character. As the movie makes clear again and again, Pearl Jam is about the music, not fame and its trappings. Frankly, I'd have been disappointed if they had stayed around to watch themselves.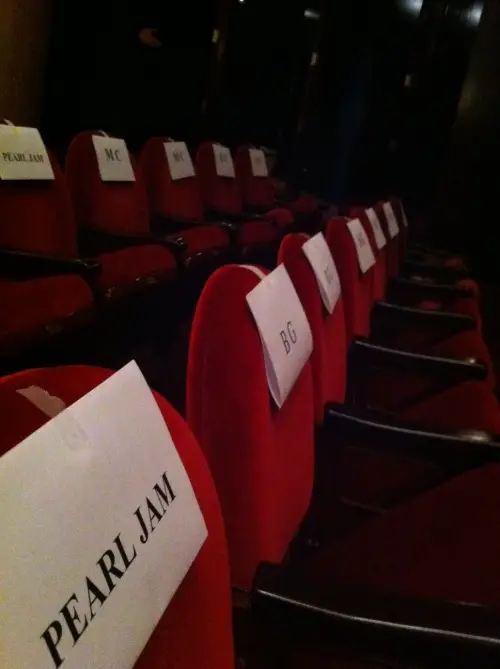 If you're a fan, you'll love this. If you're a fan of the grunge era, you will get a lot out of that first 90 minutes. If you're neither, at least you'll come away with an appreciation of a band who has thrived on being unpredictable. And they're damn proud of it.