Peter Gabriel's So Reissue Coming as an 8 Disc Box Set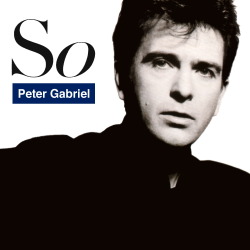 A single CD expanded to an 8-disc box set? Impossible for most artists–but Peter Gabriel isn't like most people. When he decided to release a 25th anniversary edition of So, he wanted to do it up right.
Here's what we'll get for $147 USD on October 23.
Disc 1: Remastered edition of So.
Discs 2 and 3: Re-edited Live in Athens 1987, which appears to be another version of the concert film PoV, which was produced by Martin Scorcese.
Disc 4: So DNA, described as "a unique insight into the writing and recording of So, experienced via a track-by-track evolutionary process leading you from the early moments when rhythms, melodies and lyrical ideas were discovered through the various stages of song development and recording."
Disc 5: Live in Athens 1987 DVD. Amazon says "This was the first filmed Peter Gabriel concert, now fully restored and pieced together from over 150 reels of original 35mm negatives and remixed in 5.1, this concert is made available for the first time on DVD."
Disc 5: So: Classic Albums documentary DVD which "features contributions from many of those involved in the album and videos, with interviews with Peter Gabriel, co-producer Daniel Lanois and many more."
Disc 6: Vinyl , actually. It's So on 180-gram vinyl "mastered at half speed to maximize the audio quality and the track listing, unlike the original, is that favoured by the artist."
Discs 7 and 8: Double A-side 12-inch vinyl single featuring two previously unreleased tracks, "Courage" and "Sagrada" along with an alternative piano mix of "Don't Give Up."
Finally, a 60-page book with text and photographs.
If that's too much for you, a standalone issue of So and a three-disc edition will be out October 23.