Pharma Bro Martin Shkreli is Probably Going to Lose That One-of-a-Kind Wu-Tang CD
Martin Shkreli, the pharma bro douchebag who made headlines up hiking the price of an AIDS drug called Daraprim by 5,000% later found himself in trouble with the feds over securities fraud. Meanwhile, he managed to acquire the one-copy-only of Wu-Tang Clan's Once Upon a Time in Shaolin for $2 million and allegedly the only copy of Lil Wayne's unreleased Tha Carter V for an undisclosed amount.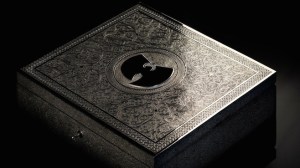 But then he was convicted on those fraud charges last August and has been sitting in jail awaiting sentencing ever since. Punishment will be meted out January 16. He faces up to 20 years.
The US government has made it clear it wants its piece of flesh. The feds want our Bro to hand over $7.4 million in assets, including a Picasso, a Nazi Enigma machine from World War II and both rap CDs. Who knew the feds would take such an interest in ultra-rare rap records?
Shkreli's lawyers are vigorously fighting the forfeiture request. Meanwhile, Wu-Tang–who didn't know the name of the anonymous buyer of their CD until it was too late–are probably quite happy. They were never fans of the guy, especially after he released a weird video dissing the group.
Never dis the Wu, dude. Karma can be a bitch.