Photos and a review of Depeche Mode at Scotiabank Centre in Toronto
[Correspondent Ross MacDonald was on the scene. – AC]
The best cure for cold fall weather and the recent shift away from daylight saving time is a rocking concert at Scotiabank Arena in downtown Toronto. And it was extra special as Depeche Mode came back to town on the return leg of their 'Memento Mori' world tour.
Opening the night was New York alt-rockers DIIV (pronounced "dive"). DIIV are a very guitar-forward band, using lots of effects to give a very full sound. This band had a great sound, which musically complemented Depeche Mode's balance between guitar and keyboards.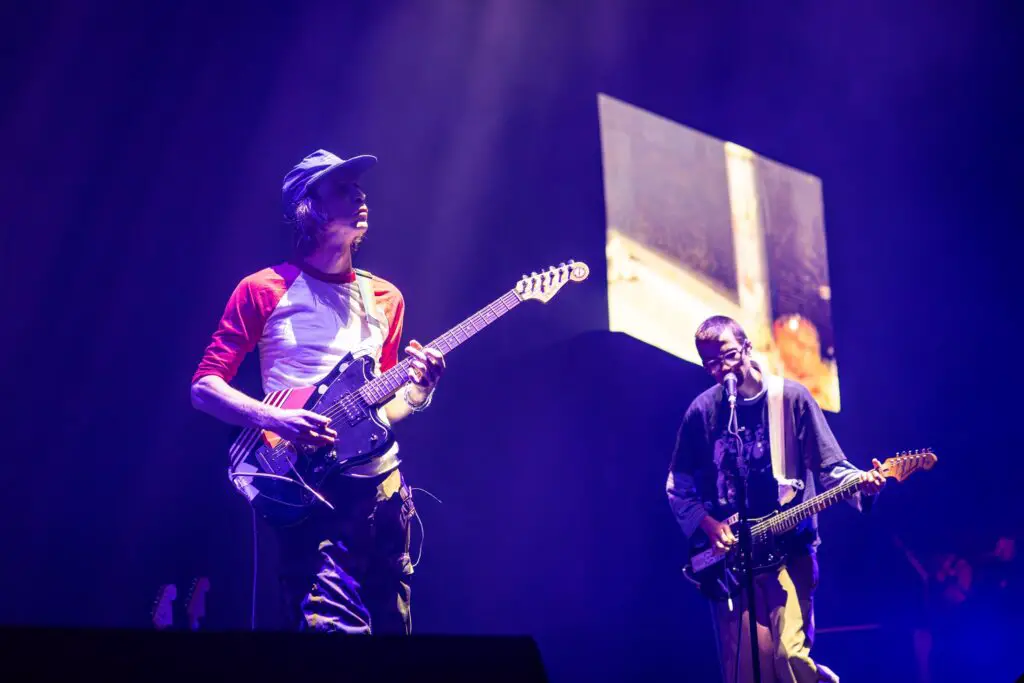 The lighting also had great effects, which is often unusual for an opening act. It would have been nice to see more dynamic movement in the band. They seemed to take the shoe-gaze moniker very seriously, remaining close to their effects pedals; it would have been nice to see more interaction with the audience. Overall, DIIV was a solid opening act.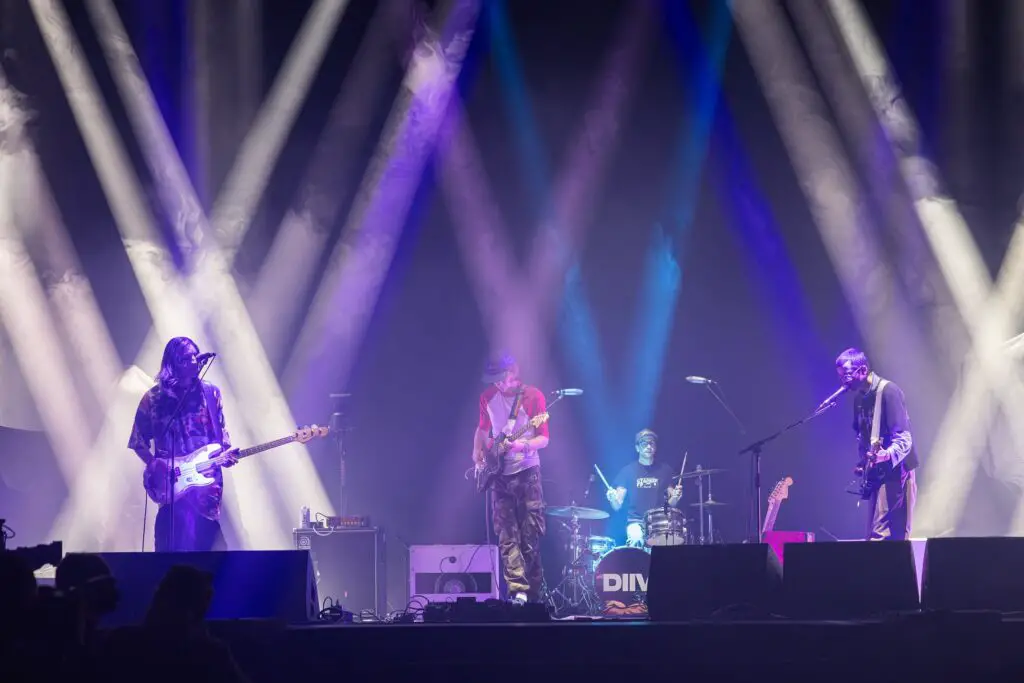 After a few minutes to change the stage setup the lights went down in Scotiabank Arena. As an instrumental version of 'Speak To Me' (from the new 'Memento Mori' album) played, Martin Gore came on stage with Peter Gordeno and Christian Eigner to loud cheers from the audience. As the applause started to wane, out came Dave Gahan to more cheers. Dave strutted across the stage in a black three-piece suit, looking very formal. The band broke into the sombre 'My Cosmos Is Mine', again from the 'Memento Mori'. It was a beautiful experience backlit in khaki lighting as the large M on the screen behind the band was painted in with white streaks.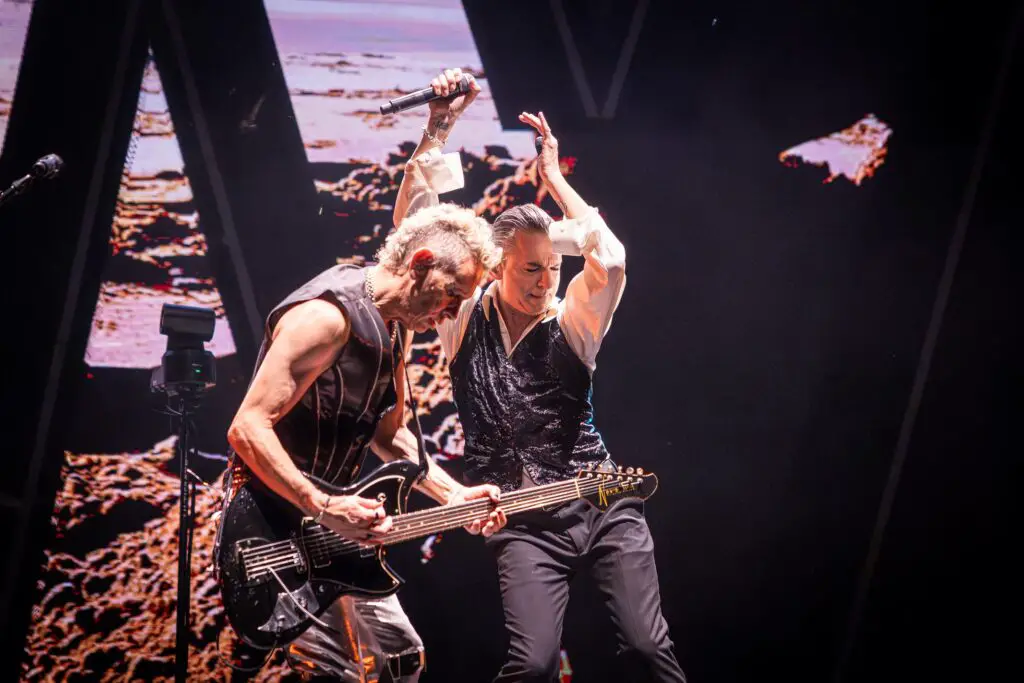 Next the band performed another single from 'Memento Mori', the single 'Wagging Tongue'. Musically it is reminiscent of older Depeche Mode songs with synthesiser melodies, but with lyrics directed at today's issues.
Depeche Mode had a large, and uncluttered stage which Dave took advantage of; dancing and swirling across its entirety, stopping to sing to all sections of the audience. There was a catwalk that extended out about 20 metres from the middle of the stage, but Dave preferred performing on the ample stage.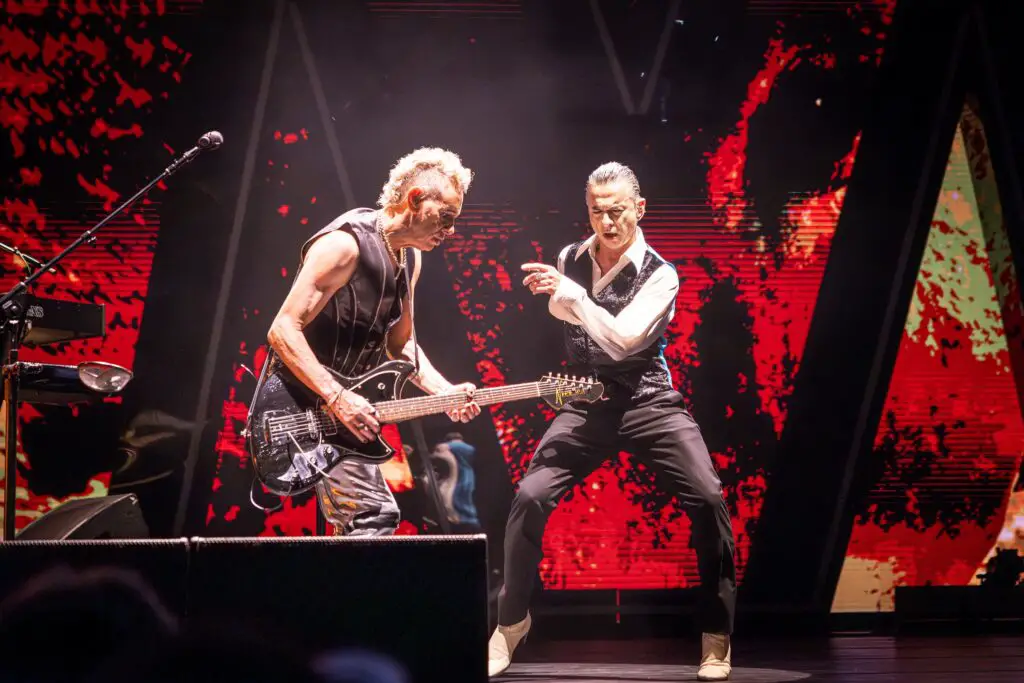 Everyone at the sold-out Scotiabank Arena was on their feet for the entire two-plus hours, singing and dancing for over two hours. All songs, new and old, were well received by their fans, but the big hits received the biggest ovations and loudest audience choruses. And Depeche Mode have a very large library of hit singles. Fortunately, the band played favourites from every decade since they started in the 80s.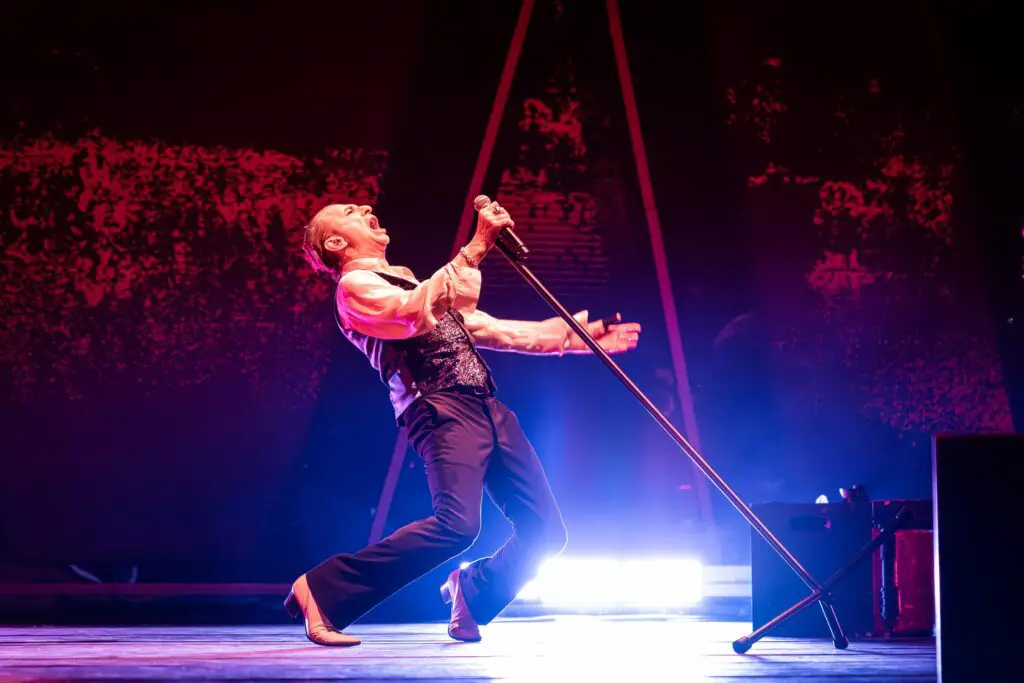 Dave had little to say between songs, mostly thanking the enthusiastic audience for their participation and applause. But it was evident that the band was drawing energy from the crowd. Dave was like a Jack Russell hopped up on Red Bull dancing all over the stage, at times extending his microphone into the audience so that the fans could sing along.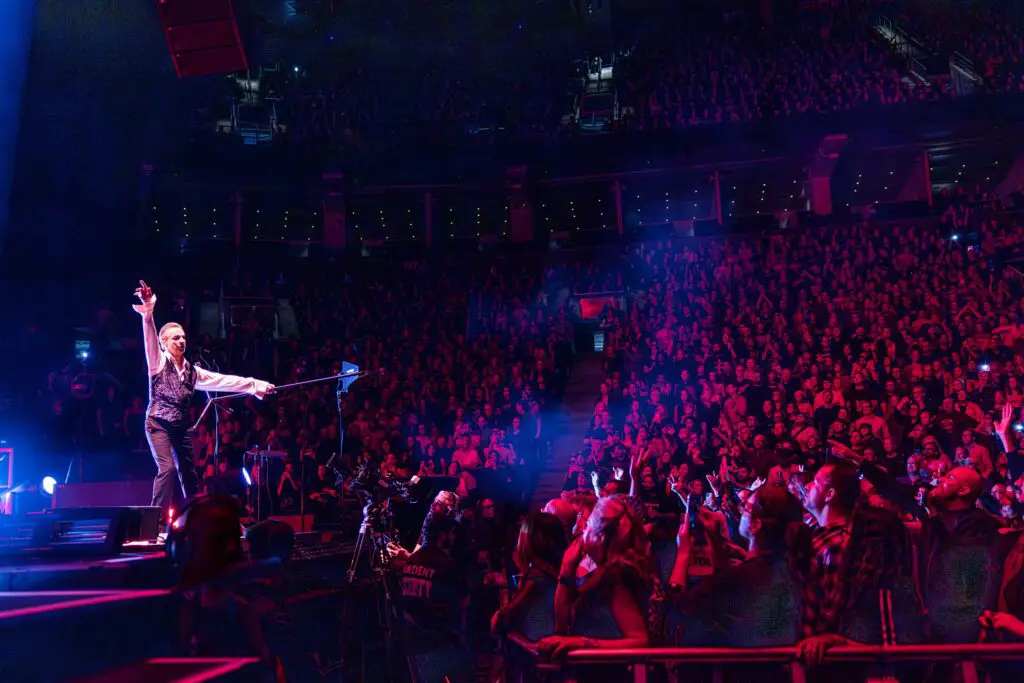 The concert was immersive, not only with the music, but there was also a full screen behind the band displaying various projections. During 'Everything Counts', there was a backdrop of a person in black, with white gloves that danced across the screen.
One of the biggest appeals to Depeche Mode is the vocal harmonies of Dave and Martin. Martin's backing vocals aren't simply singing the same notes, he sings complementary harmonics which deliver a strong punch. And for a pair of songs, Dave took a brief break while Martin sang lead vocals, including a powerful performance of 'Strangelove' that was solo acoustic with only Peter backing him up on keys. And then Dave came back, less shirt, but wearing his trademark black vest.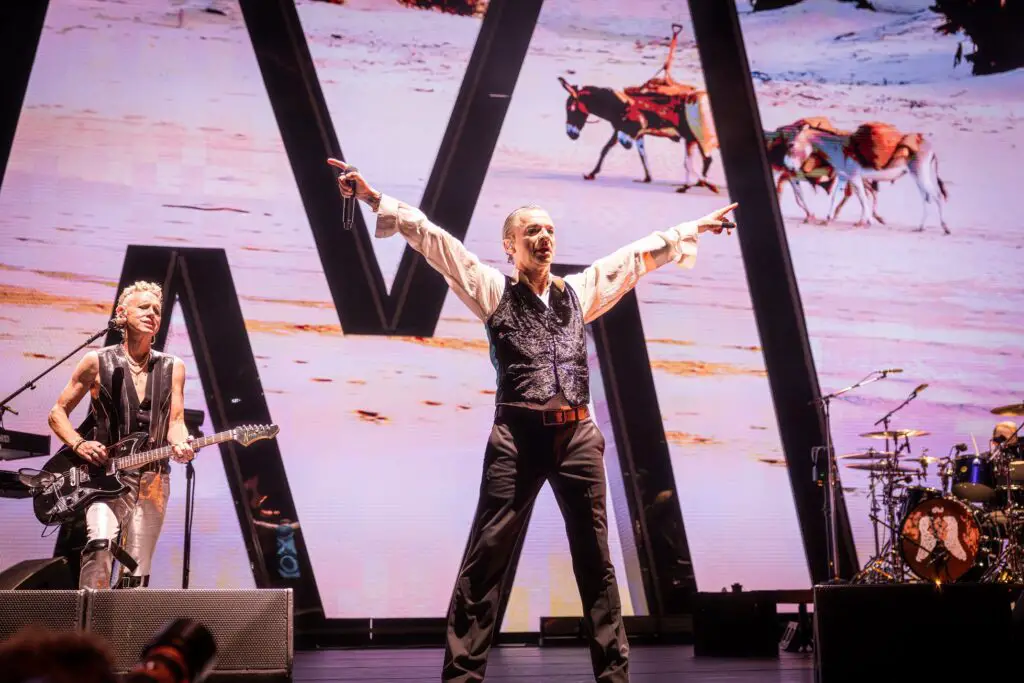 All evening, Martin alternated between guitar and keys, with ever-present backing vocals. Martin had a few guitar solos, notably on 'John The Revelator' He wasn't shredding like Eddie Van Halen, but his playing is precise and adds a fullness to their music with Peter on keys and bass; and you would be hard-pressed to find a drummer that hits harder than Christian.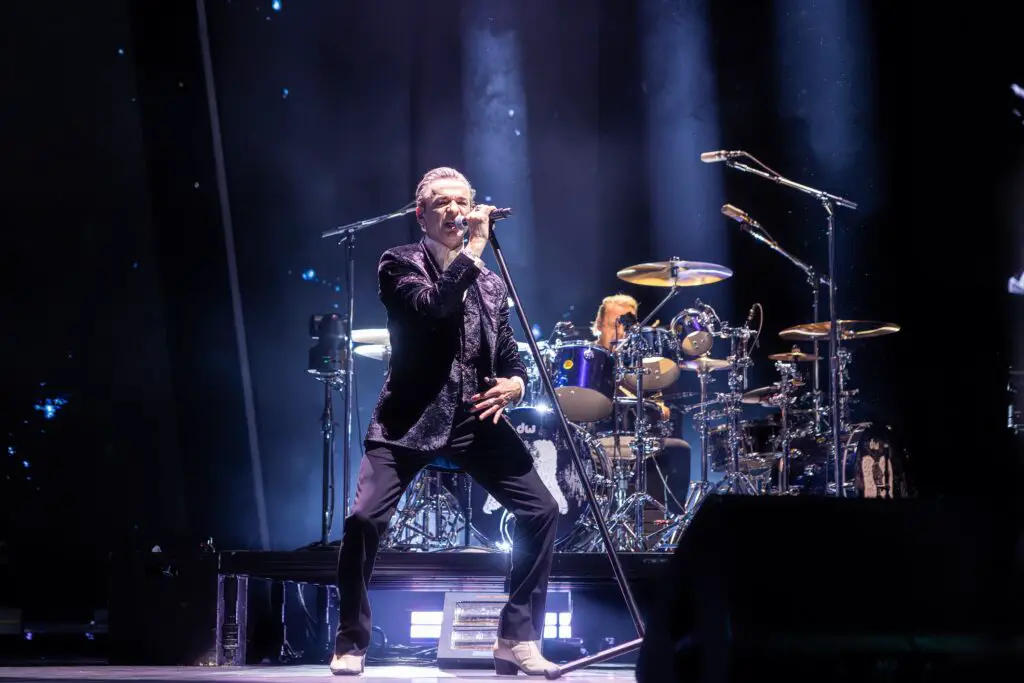 The song 'World In My Eyes' was dedicated to bandmate Andy Fletcher who passed away tragically in 2022; it was his favourite song. Martin took his place on keyboards while a series of photos of Fletch were displayed on the screens behind the band. At the end of the song Dave gave the dedication: "Our friend and bandmate, Mister Andrew Fletcher!" while pointing up at Fletch's photo.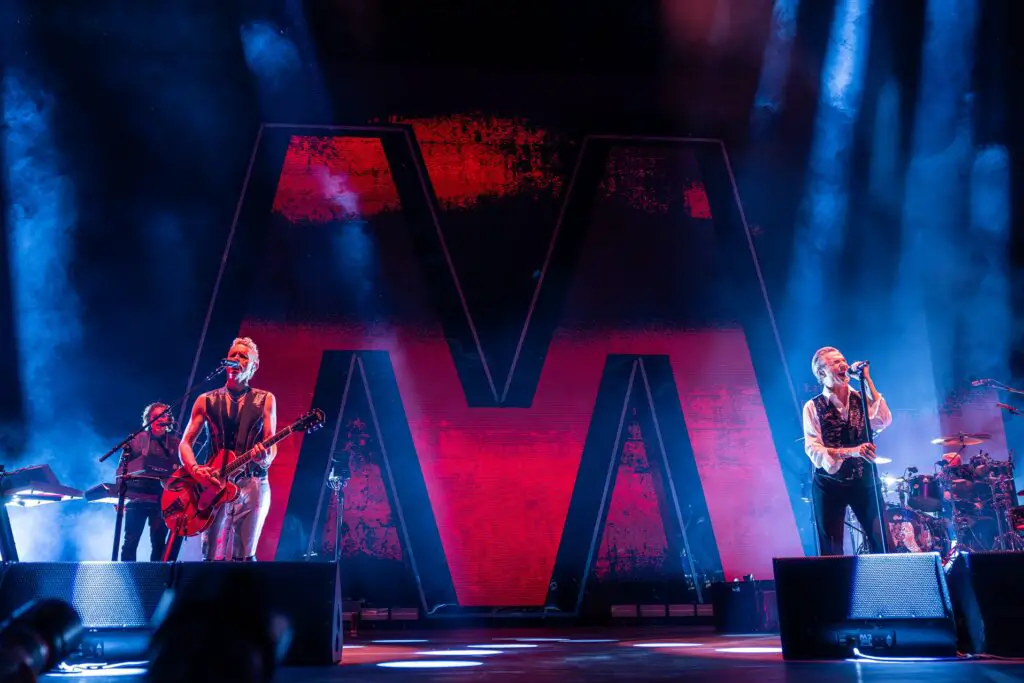 To close out the main set the band performed a special extended version of their smash hit song 'Enjoy The Silence', over seven minutes of non-stop musical bliss; again with Martin performing a beautiful guitar solo. The roaring melody was somewhat ironic given the song title.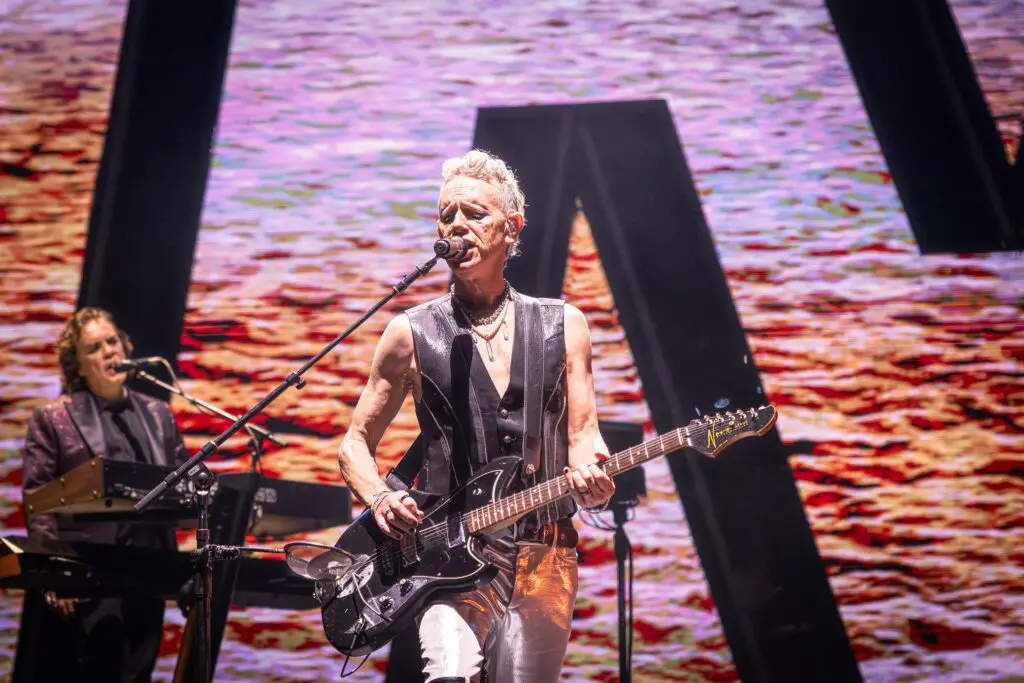 After a couple of minutes the band came back for a four song encore, starting with 'Condemnation' where both Dave and Martin walked out at the end of the catwalk engaging with the fans, while Peter and Christian were both on keys. After this Dave had caught sight of a sign earlier in the night and led the audience in 'Happy Birthday' to fan Diem; at the end of the song shaking her hand.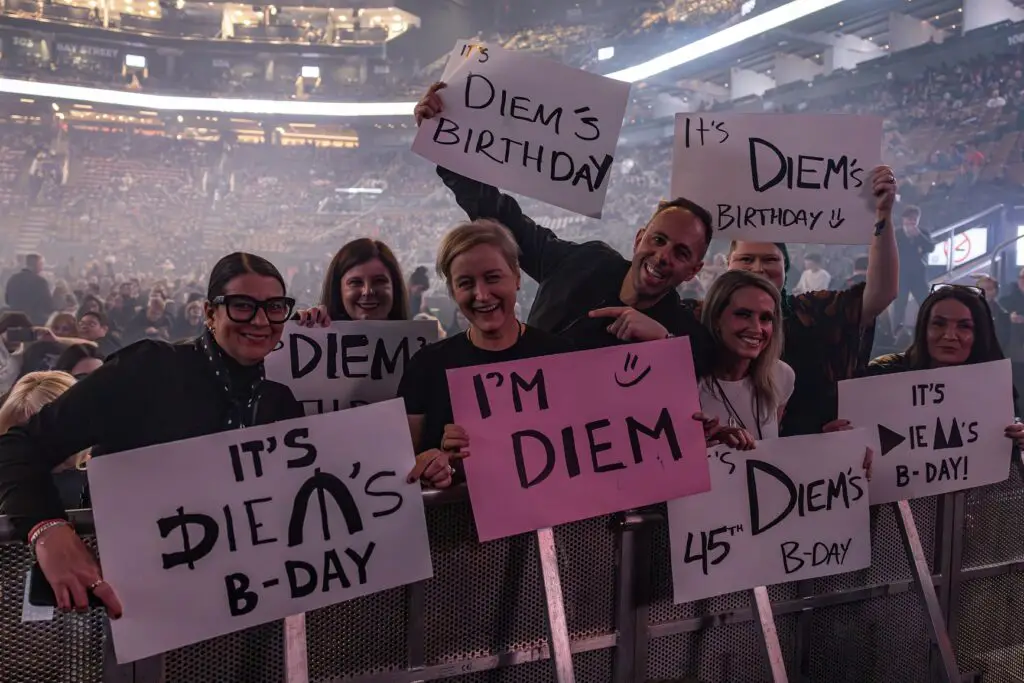 The night closed with Depeche Mode performing three of their biggest smash hits: 'Just Can't Get Enough', 'Never Let Me Down Again', and the grand finale 'Personal Jesus'. Everyone was singing along at the tops of their voices, and dancing. The dynamic between Dave and Martin is still very fun, it can be seen on their smiles and silent interchanges throughout the show. And this energy was passed back and forth with all their fans.
Depeche Mode:
Dave Gahan – lead vocals
Martin Gore – keyboards, guitars, backing and lead vocals
Touring musicians:
Christian Eigner – drums, keyboards
Peter Gordeno – keyboards, bass, piano, backing vocals
DIIV (pronounced dive):
Zachary Cole Smith – lead vocals, guitar
Andrew Bailey – guitar
Colin Caulfield – bass, backing vocals
Ben Newman – drums