Photos from Phil Collins' "Not Dead Yet" performance in Toronto
[Andrei Chlytchkov was one against dispatched into the photo pit. His assignment? Bring back some photos of Phil Collins in concert at the Scotiabank Arena in Toronto on October 11. Text provided by L. Benny Sanders and Mayerling Rivera. – AC]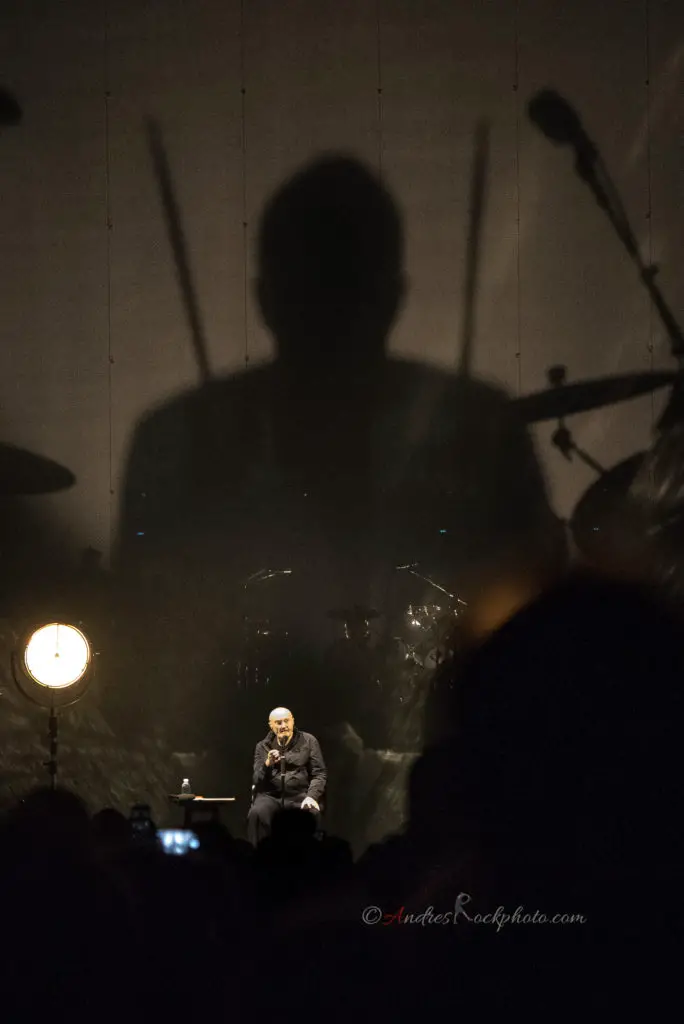 Something was in the air tonight (sorry) at The Scotiabank Arena. It was clear that when Phil Collins walked on that stage using a cane ("Sorry. My foot is fucked," he told the crowd), the audience was filled with admiration and respect. For Collins, who has been performing for over 50 years, the applause exploded from fans as young as 8 to 88 years old. Collins' "Not Dead Yet Live" concert commenced with a grateful thanks to the cheering crowd. From the opening piano chords of "Against All Odds" to the final notes almost two hours later, the audience was as excited in the upper bleachers as they were at the front of the stage.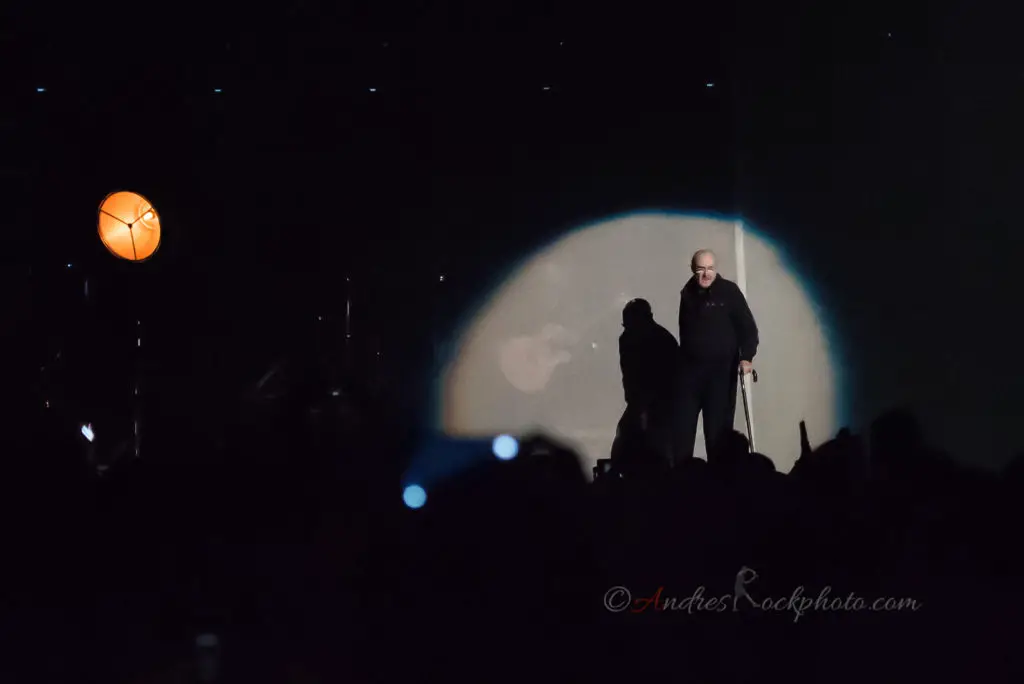 We heard the best of Phil solo with the addition of a sampling of tunes by Genesis: "Another Day in Paradise", "I Missed Again" and "You'll Be in My Heart" (from the soundtrack of Tarzan) to "Throwing it All Away" and "Invisible Touch." He also wove in the Stephen Bishop ballad "Separate Lives" as a duet with one of his background vocalists and "Easy Lover" with the entire quartet of backup singers.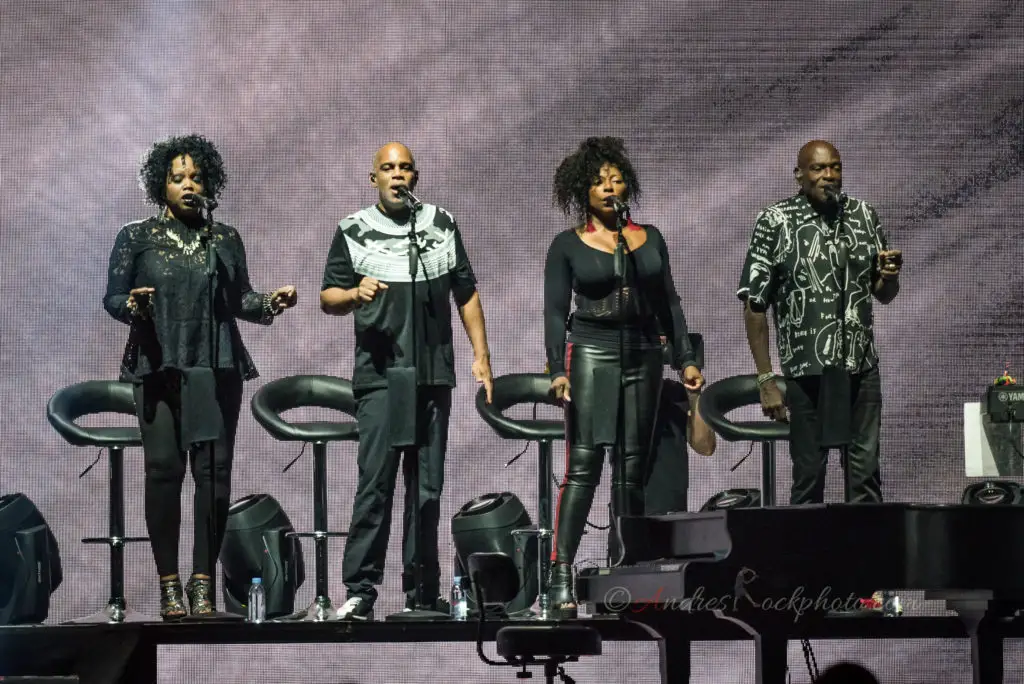 The mix from the sound engineer had the quality of a recording studio session with all fifteen musicians fully engaged. This was the genius of Collins who had a full brass section, along with the band, including percussionist Richie Garcia (whose nickname "El Pulpo" means "The Octopus" in Spanish) and Phil's 17-year-old son Nicholas Collins on drums. At one point all three performed a drum trio. Very cool.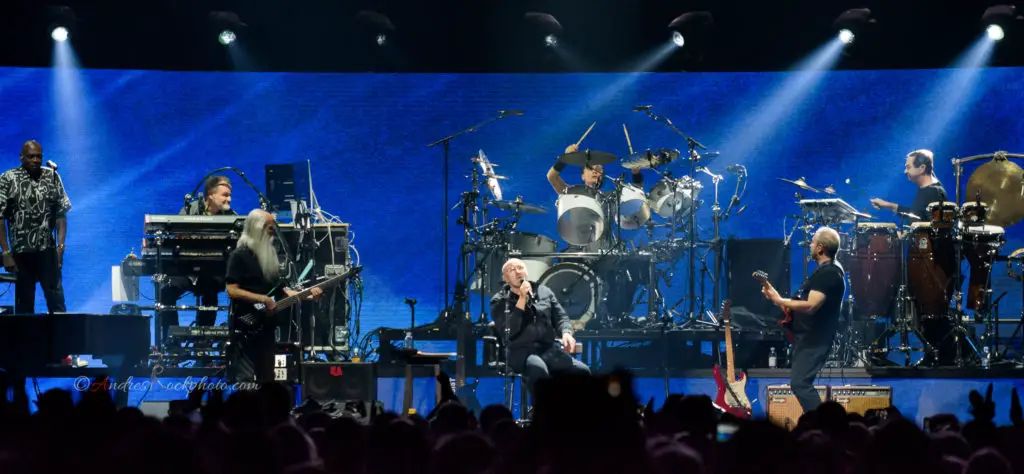 The younger Collins sat directly behind his father for the song "You Know What I Mean" as it was a duet with Phil providing vocals and Nicholas on piano. As the tune concluded, Nic gave his dad a big hug before returning to the drums. Touching, really. The women in the audience seemed to really like the younger Collins.
And before you ask, yes, be played his dad's famous drum fill on "In the Air Tonight" perfectly.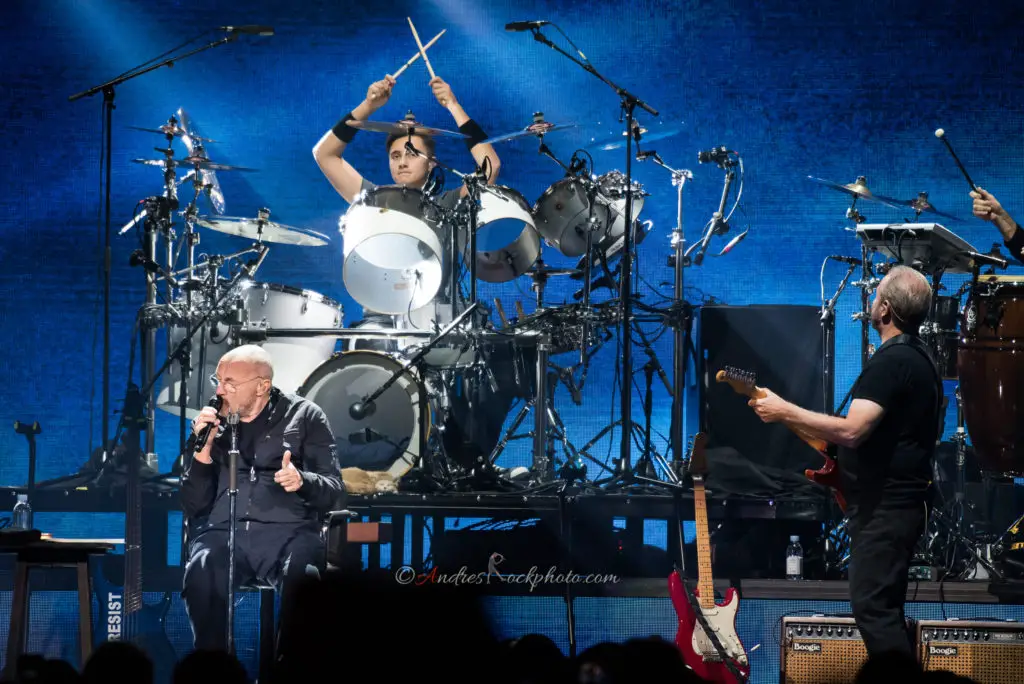 Other highlights of the evening included Follow You Follow Me" that featured a video of the band's history projected on the back screens as the crowd sang like a well-practiced choir.
At the beginning of "Sussudio" the entire fifteenth row sprung to its feet to dance, enticing the rest of the audience to follow. As the song progressed, the crowd was bathed in rainbow lights while being showered with streamers and confetti blasted from the stage. Trombonist Luis Bonilla delighted the audience with a surprise solo on what we thought was the show closer. We were then treated to an encore with the song "Take Me Home."
One final thing: Collins reminded the audience that the first place that he sang lead for a Genesis concert was in London, Ontario.