Pirate radio stations have always left their mark wherever they spring up. This station in Istanbul, Turkey, only because of dangers in Syria, is living on the edge. Radio Alwan is providing an incredible service to the people.
"You work in an apartment block?" I ask somewhat incredulously, and he laughs. We ascend the stairs, passing a bridal shop on our right, and eventually arrive at the entrance of what seems like an ordinary residence.
The hive of activity inside forms the Istanbul operations of Radio Alwan, (Alwan means "colors" in Arabic) an independent Syrian news station broadcasting into that devastated country every day. Alwan provides much-needed news updates to information-starved Syrians and also runs popular entertainment programs and controversial discussions. After being forced to move its operations to Turkey, the voice of Radio Alwan still provides comfort to thousands of Syrians, at great risk to the individuals within Syria who help create the station's programs.
Radio Alwan's Istanbul base is an apartment that might otherwise house a family with children, but the three bedrooms have been converted into a meeting room, a recording studio, and an office. All of Alwan's staff, including Sami, the deputy CEO and head of special projects, have left their homes in Syria and taught themselves the intricacies of radio broadcasting so they could work in Turkey, in relative safety from the Assad regime and various terrorist groups. The Istanbul team uses pseudonyms for its members out of concern that their families might be targeted for their work.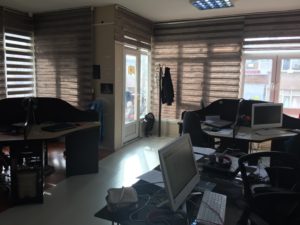 They get information into Syria that would not otherwise be available.
"The point of Alwan," he had told me in a prior conversation over FaceTime, "is not just to report the news. Radio is also a form of activism, and through our programs, we try to do our part by encouraging people to engage with civic organizations within Syria, and to inform them on what's really happening both around the country and outside of it."
Sami tells me that there are no official statistics on how many people the station reaches inside Syria, and the war means that people are constantly moving, but the frequency number of calls from listeners on a daily basis has been deeply heartening for the team. The station's operations are modest and funded entirely by donations. A law student named Ahmad al-Qadour started Radio Alwan in 2014 in the northern Syrian city of Idlib. In its early days, al-Qadour did all the broadcasting via an FM transmitter fixed to the top of a truck that traveled around the city covering updates on the war. Al-Qadour now works in the U.S. for Al Arabiya TV but still runs the radio station remotely.
"The Assad regime was targeting demonstrators at the time and there were very few clear reports on what was going on," Sami explains. "Of course, foreign journalists were given very little access to what was happening there. I helped Ahmad out online from Dubai, but after three months I decided to quit my job and work full time for the station." Later on, Alwan opened another office in Aleppo.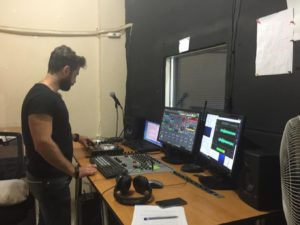 This is a dangerous job and it isn't just the Syrian government who doesn't like them doing their job.
They decided to relocate Alwan's central office to Istanbul after a series of threats from Islamic radical groups such as the al-Nusra Front, which had been part of the Syrian wing of al-Qaida before splitting from the group in 2016. In Idlib, Alwan's transmitter had been temporarily confiscated by al-Nusra after the station came out in support of another activist station called Radio Fresh.
"Al-Nusra condemned us," Sami shrugs wryly, "because we had women working for us, and we had reported a story on children singing in Idlib. Can you imagine—they had a problem with children singing!"
A major confrontation in Idlib was averted thanks to the resulting public outcry. Alwan's listeners were indignant about the station's temporary shutdown, and al-Nusra reluctantly came to a truce that involved Alwan producers not directly naming them in news segments. That lasted until March 2016, when a group of masked men—no one knows who they were or who sent them—stormed the Aleppo office, beat up some of the staff members and took away their equipment. Since then, Alwan has not been able to re-establish operations there.
Read the entire fascinating story at Roads & Kingdom.