Plans Are Being Made for a Nationwide Tragically Hip Listening Party on the Day of the Last Show
As far as we can tell, the Tragically Hip will come to an end–at least as a touring entity–on August 20 when they play the final show of the Man Machine Poem tour in their hometown of Kingston. That gig will be broadcast commercial free on CBC TV, CBC Radio 1, CBC Radio 2 and online. In other words, the Corp will beam the show to all points across Canada. Virtually everyone in the country should be able to tune in somehow.
This got some guys thinking. What if there were a way to connect all these viewers and listeners together into a giant community for that night? They boiled it down to this mathematical equation: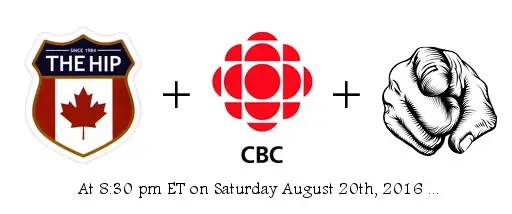 The goal is to create the largest audience ever for not just a Hip show, but for any concert ever staged in Canada. From the Live and Out Loud website:
Be part of the largest Hip Audience – ever! – and say thank you for more than 30 years of music and memories. Sign up here!
The current record for the largest Tragically Hip event ever is 200,000* people attending. We want to smash that by encouraging everyone to register so that their place in the audience for The Hip show is shown on the Audience Map!
* As best as we can tell, The Hip played the 1992 Parkpop festival in Holland to an estimated crowd of 200,000.  That's a shitload of people!
Participation is 100% free. The site also features an audience map so you can see where other fans are listening along with the latest news about the tour.
I love this idea. Not only is this a great way to say thank you for more than 30 years of music, but it'll be a national bonding experience over something other than a gold medal hockey game. And again, neither the band nor their record company has anything to do with this. It's another example of spontaneous grassroots activity generated by fans from all across the country. Warms your heart doesn't it?
Here's the link to Live and Out Loud. There's also a Facebook page. Sign up today!