Play It Loud: The History of the Electric Guitar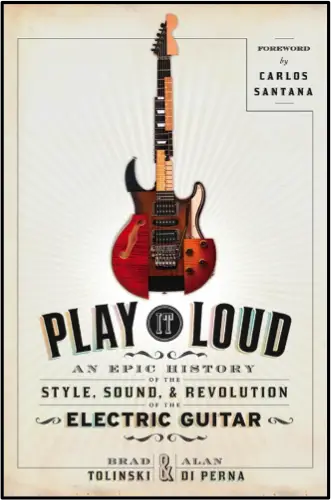 If there had to be one iconic symbol of rock and roll, it would definitely be the electric guitar. It became the symbol of everything rock stood for: freedom, rebellion, and really loud music. If you have ever wondered how it became an iconic symbol for rock, there's a new book being published later this month that tells the history of the electric guitar.
Written by Brad Tolinski, former EIC of Guitar World, and Alan di Perna, Play It Loud: An Epic History of the Style, Sound, and Revolution of the Electric Guitar gives the unprecedented history of the iconic instrument. Additionally, the forward is written by guitar legend Carlos Santana.
Play It Loud features interviews with quite a number of well-known guitarists. These musicians include: Les Paul, Billy Gibbons, Paul Reed Smith, Keith Richards, Jeff Beck, Peter Townshend, Jimmy Page, Steve Vai, Ted Nugent, Billie Joe Armstrong, Jack White, Kerry Keane, Dan Auerbach, Patti Smith, plus many others.
The authors take the reader from the development of the electric guitar in the roaring twenties up until present day in what is sure to be a fascinating read. Tolinski and di Perna leave nothing out and cover all the important developments as well as brands and rivalries. Learn about young pioneers with the instrument and how some modern rockers bring back early forms of the instrument to play on stage today. Furthermore, they explore the life of Leo Fender, a man who couldn't play the instrument but still managed to turn the instrument into the iconic symbol it is today.
The book will be released on October 25, for more information you can go to the publisher website here.