Podcasting has experience exponential growth over the last couple of years. So what's the next frontier? Dogs, apparently.
Earlier this week, Spotify began offering "My Dog's Favourite Podcast," which is designed to keep your animal calm when left alone in the house. Each one is about five hours long, so that should hold 'em for a bit.
Why a podcast for dogs? Because Spotify's research shows that 74% of pet owners play music for their pets and 80% think that their dogs enjoy music.
Silly? Hang on a second.
Alex Benjamin, a pet psychologist who worked on the project, says "Dogs are extremely social animals but, in order to fit in with our busy lives, may spend some time by themselves during the day. [This is] a bespoke podcast that is designed to encourage your dog to relax through calming gentle praise and story-like speech accompanied by original music and gentle ambient sounds designed to help mask startling sounds of the outside world such as traffic, car doors slamming or the bins being emptied, for example. I hope that the podcast becomes a fun and useful resource for owners to explore with their dogs while they are at home together as well as when their dog is alone for short periods."
There's more, too. Spotify also has playlists for dogs (as well as cats, birds, hamsters, and iguanas.)
I thought I'd try this on Schmooze, the elder of the two English bull terriers in the house. After answering a few questions about her personality (energetic/relaxed, curious/apathetic, and a few more), Spotify synced those characteristics with my tastes. Here's what I got back.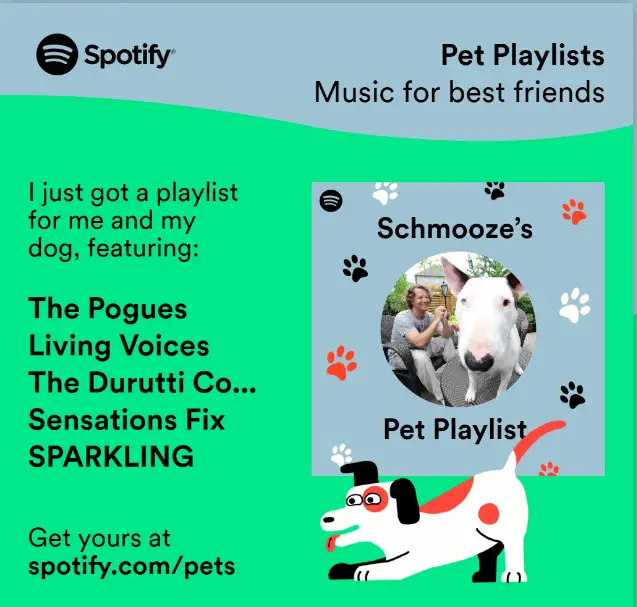 If I can wake her up, I'll see what she thinks.