Ponder This on a Sunday: Who Is Rock's Most Underrated Band?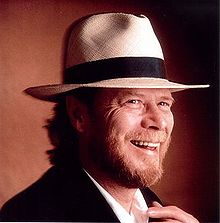 Who? Exactly. Scroll down to see why I picked this guy as the most underrated of all time.That's a question that's potentially loaded with a lot of subjectivity, but try and separate yourself from any and all personal tastes.
Think about all the rock bands that ever existed. Which among them did the best work and had the most influence but remain criminally underrated and underappreciated when you consider the history of rock as a whole?
Here are some possible contenders:
1. Big Star, Alex Chilton's Memphis-based power pop band that was making today's style of indie rock in 1972.
2. Jonathan Richman and the Modern Lovers come from that same era. Their sound was hugely influential on some of the proto punks of the early 70s and tracks like this still sound fresh today.
3. The Dictators. The were punk before punk had a name. In fact, the very word "punk" is derived from their ne'er-do-well leather jacketed image see on their Go Girl Crazy album of 1974.
4. Anglophiles could vote for the Small Faces. Before Rod Stewart joined and they morphed into just The Faces, they carved an impressive space for themselves in British pop.
5. Speaking of Britain, you can make a very, very strong case for the Kinks. Here's an article explaining why they were so important and why they should get more respect.
6. Canadians will know what I mean when I suggest the Tragically Hip. Why doesn't the rest of the world get what Canada has known for decades?
7. Maybe we should rethink Blue Cheer. Their sludgey blues-based rock came of age around the same time as Led Zeppelin and predated Sabbath by a couple of years.
8. Mudhoney. Look 'em up. Grunge fans know they should be in the Rock'n'Roll Hall of Fame.
9. What about the Zombies? They wrote some great melodies and Rod Argent went on to form Argent, another fine band.
10. But my pick? Any band ever led by Long John Baldry. Alumni include Mick Jagger, Charlie Watts, Elton John, Rod Stewart, keyboardist extrodionaire Brian Auger, singer Julie Driscoll and many others. Hell, the reason Reginald Dwight chose the last name "John" was to honour Baldry. He never has received the deserved accolades for his roll in rock history.