Preparing for the 40th Anniversary of The Ramones' First Album
While the Ramones first came together in March 1974, things really didn't take off until the released of their self-titled debut record on April 23, 1976. Recorded for around $6,600 in a backroom recording studio at Radio City Music Hall, the record became a template for thousands of punk bands to come.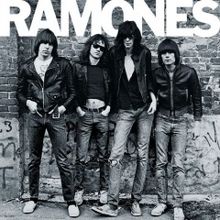 Come this spring, there will be plenty of 40th-anniversary commemorations: reissues, merch, events–you name it and the Brudders (God rest all their original souls) should be ubiquitous for much of the year. From Billboard:
Look for the ­collaboration to kick off at South by Southwest on March 17 with a Grammy Museum-organized panel ­featuring Seymour Stein, who signed the band to Sire Records, and Leigh and Linda Ramone. That evening, several bands also will perform the group's music.
Meanwhile, back on The Ramones' home turf, an exhibit of memorabilia opens at the Queens Museum in New York on April 10 and will include Johnny's recently unearthed leather jacket and guitar. An expanded version moves to Los Angeles' Grammy Museum in October. In addition, a world tour of at least 18 cities is planned for 2017.
On the music side, Rhino will release a three-CD/one-LP deluxe collector's edition of the band's self-titled first album, overseen by its ­original ­producer, Craig Leon, and ­include demos and a live concert. Other special packages are likely, among them a singles box ­spanning the group's career.
Read more about what's happening here. Once you're done with that, check out this Guardian article entitled Forty years of the Ramones: 'They were the smartest dumb band you ever heard.'
Punk exploded into New York and the UK at exactly the same time. There were parallels: New York was bankrupt and London was a bombsite, with lots of strikes. British punk was more political, although the Ramones weren't as dumb as everyone made out.
Ramones was the first so-called punk album. It made us think: "We'd better crack on here." But the Ramones and the Pistols were different animals, with a different flavour. They were more basic, three-chord rock'n'roll. Great songs, really catchy, all two and a half minutes long.
Sid Vicious was a massive fan. He tried to imitate them with his playing, but they were a lot faster. At Dingwalls, there was a bit of: "Oh, they're coming over here to our turf, jumping on our bandwagon." I think they were taken aback by the reaction – things getting thrown all over the place. We were never in the same room at the same time. If we had been, the conversation would probably have been something like: "Hello, you're shit. We're better than you." "No, you're not." "Yes, we are."
You'll need to read the rest of that article, too. And if you ever want to visit New York for some Ramones sites, go here for some ideas.