And the Prince News Just Keeps on Coming…
As a result of grossly elevated tree pollen yesterday, I found myself in line at the drug store with an armload of antihistamines and decongestants. Ahead of me was a woman who insisted on paying for her purchases by emptying out her change purse. I watched her count out 17 pennies–pennies!–as I gasped for breath through what seemed like gallons of mucous. (Can you drown in your own nose fluids?)
To keep from slipping into unconsciousness, I picked up a copy of The National Enquirer. Prince was on the cover with a headline that promised to explain the real cause of his death over six explosive pages.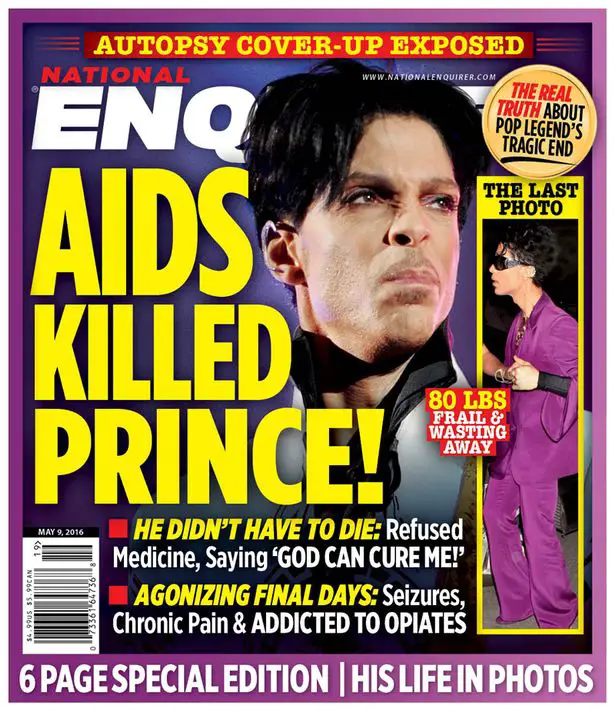 He was suffering from AIDS! He had dropped to just 80 pounds! He knew the end was near, which is why he (a) started on his memoirs (What will happen to that?); (b) wrote up a will (Really? I thought he died without one.); (c) starting planning his funeral, requesting that his song "Sometimes It Snows in April" to be played (He knew he wouldn't see the end of the month) and ordering up special keepsakes for anyone who may show up at Paisley Park (See them here.)
Take all of the above with a grain of salt, of course, but remember that The National Enquirer is capable of doing some real investigative journalism (cf. its work on the OJ Simpson case).
Beyond The Enquirer, though, there have been some new developments in the continuing investigation of Prince's death.