Prince Suing 22 Facebook Users for $1 Million Each
Prince, who has this super-manic love-hate thing with the Internet, is in full "hate" mode now.  He's suing 22 Facebook users for $1 million each for damages because he claims they posted bootlegs of his live gigs.
The lawsuit, filed in California, only names two people but another 20 are about to be notified.  Read more at TorrentFreak.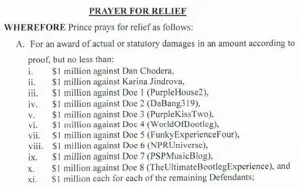 Update:  Prince has called off the suit.  Everyone can stand down.