Producer Alan Parsons Talks, er, Producing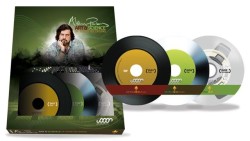 From Wired:
Music is a big part of GeekDad and when I recently had the opportunity to interview famed producer and musician Alan Parsons, I jumped at the chance. In particular, I was curious about how someone who had established a certain notoriety for being a music obsessive (reflected in his award-winning work on Pink Floyd's Dark Side of the Moon, The Beatles' Abbey Road and his own Alan Parsons Project, among other credits) felt about a number of growing trends in the industry, particularly the ease of access to simplified recording tools on iPads and whether engineering holds the same importance as it once did when so much of the music we listen to today consists of lossy digital tracks played through cheap earbuds.
The timing is pretty much perfect, with The Dark Side of the Moon just having been released in a remastered form. Parsons has also recently released his own DVD collection, Alan Parsons' Art and Science of Sound Recording. If you watch the trailer for the set on this website (scroll to the bottom of the page), you'll get a sense for just how much Parsons sweats the details about recording minutiae.