More Proof of the "You Can Lead a Horse to Water" Theory When It Comes to Music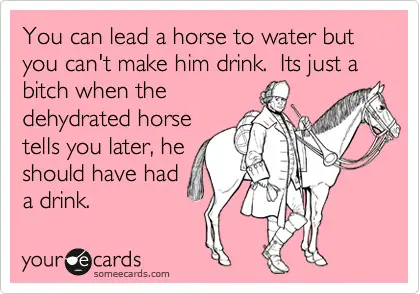 For years, musos despaired at the musical preferences of other music fans whose tastes were considered, substandard. "It's so sad that they're brainwashed into only liking Top 40 mainstream dreck. But since radio stations, record labels and music channels control what the world gets to hear, it's not surprising. If only these poor people could hear the music beyond what The Establishment wants them to buy things would be so much better. More people would hear good music!"
These same musos celebrated the arrival of illegal peer-to-peer file-sharing sites. "Just go onto Napster and you'll find all kinds of great music you never knew existed!" Some did, but that didn't stop the rise of the Backstreet Boys, Britney Spears and NSYNC. The musos were bewildered and frustrated.
When iTunes appeared with its Genius recommendations, the musos got excited at first but then became discouraged when they found that the majority of music fans gravitated towards buying the same old mainstream hits.
Then came streaming. "Aha!" they musos exclaim. "Here's where things change! People will finally get to explore through tens of millions of song and find great shit that will finally put the nail in the coffin for Justin Bieber!"
Nope. I monitor who's streaming what every single week and guess what? The non-musos are still listening to the same old mainstream hits. Here's this week's Top 10 streamers in Canada.
Rihanna Feat. Drake, "Work,' 3,950,956 streams in the last week
Bieber, Justin, "Sorry," 2,229,387
ZAYN "PILLOWTALK."2,066,661
Bieber, Justin, "Love Yourself," 2,006,067
Twenty One Pilots, "Stressed Out," 1,760,691
G-Eazy x Bebe Rexha, "Me, Myself & I," 1,443,288
Flo Rida, "My House," 1,336,581
Graham, Lukas. "7 Years," 1,326,517
Chainsmokers Feat. Rozes, "Roses,"1,295,656
Adele, "Hello," 1,274,379
Bieber, Justin, "What Do You Mean?" 1,270,959
DNCE, "Cake By The Ocean,"1,037,933
Posner, Mike, "I Took A Pill In Ibiza," 1,033,581
Drake, "Hotline Bling," 974,626
Selena Gomez, "Hands to Myself," 972,784
Let's go a little deeper. Here on International Women's Day, Spotify has this list of the most-listened-to female artists among female listeners.
Beyoncé
Katy Perry
Lana Del Rey
Rihanna
Ariana Grande
Lorde
Miley Cyrus
Taylor Swift
Ellie Goulding
Now let's look at dudes. What female artists do they listen to the most?
Katy Perry
Lana Del Rey
Lorde
Ariana Grande
Rihanna
Beyoncé
Ellie Goulding
Miley Cyrus
Lady Gaga
Iggy Azalea