Punk Band Accused of Doing "The Devil's Work"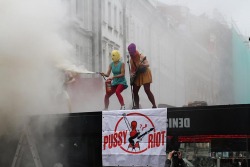 It's not easy being a feminist punk band in Russia, especially if your name translates as "Pussy Riot." And life gets difficult when you insist on staging a noisy musical protest right outside Moscow's more prominent cathedral. And when the song you choice is called "Virgin Mary, Mother of God, Expel Putin," you can see the problem.
Back on February 21, Pussy Riot allegedly took part in an anti-Putin show. I use "alleged" because the members of the band wear bellaclavas to hide their identity. Three of the half dozen or so musicians in the protest make have been from Pussy Riot–or maybe not.
Regardless, three members of the band were arrested and are now awaiting trial. If convicted, they face up to seven years in jail.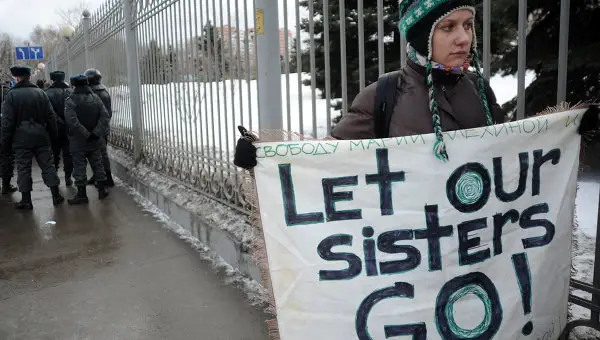 While many are urging leniency in the spirit of free speech, others are being a little more hardass. Patriarch Kirill, the head of the Russian Orthodox Church is dismissing all calls for leniency, saying that "the devil laughed at us" when the band played that day. He's probably not a fan of some of the other group's hits, which include "Putin Pissed Himself," "Death to Prison, Freedom to Protest" and "Fuck the Sexist, Fuck Putin's Henchmen."
What about Putin himself? He's said to have "reacted negatively" to the whole episode. Uh-oh.