"Because Punk Still Rocks"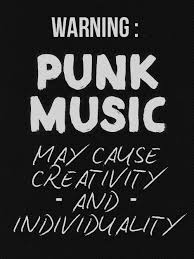 Punk, born in the Bowery of New York in the middle 1970s, refuses to die. Every subsequent generation has rediscovered the music, the aesthetics, the belief system and the politics of punk. The New York Times has this look at how punk still rocks.
BOSTON — Forty years after its noisy arrival, punk rock has hit middle age.CBGB, the seminal New York punk club on the Bowery, has been closed for a decade, but there is a CBGB-themed restaurant at the Newark airport. In my hometown, Boston, the 148-room Hotel Commonwealth, which occupies the former site of the storied punk venue the Rathskeller (always known as "The Rat"), offers a punk-themed luxury suite — for about $500 a night.
You could be forgiven for thinking this means that punk has been daddified, sanitized and gentrified since that foundational moment in December 1976 when the Sex Pistols appeared on a British talk show. Some of the band's entourage wore swastika armbands, while the guitarist Steve Jones cursed like a sailor. Electrifyingly transgressive for daytime TV, the Sex Pistols really did seem to herald "anarchy in the U.K." — as the band's debut single that year put it.
I wasn't even born then. My first close-up encounter with punk was nearly a quarter-century later.
Though born in New York, I had spent much of my childhood in Lahore, Pakistan. But in 2000, aged 16, my family moved from that bustling metropolis of millions to suburban Boston. At my Lexington high school, my new classmates fell in two groups: those who ostracized me because of my accent and those who didn't. My luck changed when some upperclassmen who were in punk bands heard that I played bass guitar, and invited me to a hard-core punk gig.