Q Magazine Available for the iPad. FINALLY!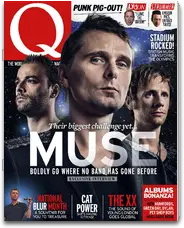 My wife hates our basement. It's not that it's damp or mouldy or filled with rats or anything. It's because a significant portion of the floorspace is taken up with British music magazines.
I've been buying the big glossy UK mags for years. And at $12 or more an issue, I'll be damned if I'm going to throw them out. And as a broadcaster, writer and music historian, I just might need some of the precious information contained therein. Some day. Maybe.
Okay, maybe not. There is the Internet, after all. But I'm not getting rid of my magazine collection. But starting this month, it may grow a little more slowly.
Q, one of my must-purchase mags every month, has, as of today, made the transition to iPad. (And yes, it's available in Canada. The new issue with Muse is being downloaded onto my iPad has I type this.)
This does my heart good for a number of reasons:
1. The aforementioned Wife Problem.
2. Instant delivery. No more being two months behind what's on the stands in the UK.
3. The promise of multimedia content.
4. At $4.99 an issue (or $42.99 a year) it's WAAAAAAAAAAAAAAAAAAAAAAAAAAYYYYY cheaper than the newsstand edition.
Now if I could only get Mojo, Recollect Collector and Uncut on the iPad…