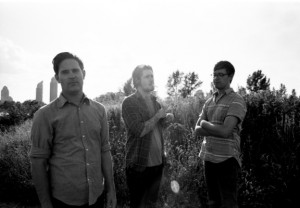 Photo Credit:  Colin Medley
When METZ released their self-titled debut album in the fall of 2012, music fans everywhere breathed a collective sigh of relief. Subpop had signed the perfect Subpop band, and at long last there was a true, hard, textured alternative to the rock-meets-fiddle-and-banjo genre that seemed to be taking over. The guys spent most of 2013 travelling the world and bringing their eardrum crushing post-punk sound and energy back to the masses. And while they were at it, also managed to get a nod on the 2013 Polaris Prize shortlist.
Julia did a quick Q&A with bassist Chris Sloarch a few questions about the last year, crossword puzzles, and his picks for NXNE. METZ are playing Lees Palace this Saturday, June 21 at midnight. Chris would neither confirm or deny that the band will be making other appearances in the city this summer, but keep your ears to the ground.
You guys were the most exciting band to come out of Toronto in a long time – you brought back an energy that a lot of people had been missing. As a result, you spent most of 2013 on the road. It must be a bit of a blur. What were the biggest moments for you?
Thank you, that's really kind of you to say.  We've had some amazing moments in the past couple of years.  It's given us the opportunity to play our music in lots of different countries, meet a ton of amazing people and just generally do what we love every day.  The entire year has been one big, amazing moment.
Subpop is such an iconic label. Was it a bit surreal when they offered to sign you?
It was definitely surreal, I've been a fan of what that label has been doing for years.
You guys were the answer to a crossword puzzle clue a while back. Were you stoked to see that? I would have been overjoyed.
All I could think was that about a million Canadians are going to struggle with that answer.  That filled me with Joy.
Things have been a bit quiet over the past couple of months. Have you been holed up working on a new album?
I guess it's been quiet, we've been touring for the last few months and when we aren't doing that we are working hard on this new record.
Are you anxious about releasing a follow-up record?
I think we are all really excited about releasing our follow up.  I don't think there is any anxiety.
You guys are playing NXNE with Eagulls on Saturday. How excited about that are you? Two bands who are just straight-up loud and awesome.
Eagulls are a great band, I'm looking forward to playing with them again. We played with them in Eindhoven. It was a blast–been friends with them ever since. Had some good times with them in Leeds as well.
Is it more fun to play a hometown show?
We love playing Toronto but we really enjoy playing anywhere and everywhere.
Who are you looking forward to seeing at NXNE?
Holy Fuck, Goat, Crystal Stilts, Fresh Snow, Danny Brown, Nice Head, Run the Jewels, Swans, Tim Hecker, and Viet Cong. There are so many good bands playing, I think wherever I end up I'm going to see something great.
We'll get more from METZ once the new record is out.  Meanwhile, if you're headed to NXNE in Toronto, you can catch METZ at Lee's Palace (529 Bloor St W) on Saturday, June 21st.
9:00 pm – Nice Head
10:00 pm – Fresh Snow
11:00 pm – Eagulls
12:00 am – METZ
1:00 am – Ratking
Photo Credit:  Colin Medley