Queen (the band) will soon join THE Queen on the £5 coin
You have to have done something extraordinary to end up on official currency. The Royal Mint has judged that Queen (the band, in addition to the monarch) fulfills that criteria.
There will be four versions of the Queen coins, too, each depicting not images of the band members but of the instruments they place. That includes Freddie's famous half-a-mic-stand. See?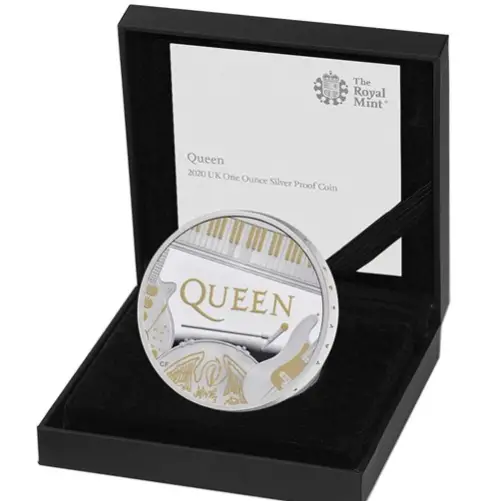 This is the first of a series of special collectible coins called Music Legends that will sell for between £13 and £15 each. Want them in silver? That'll run between £60 or £90. Two gold coins? Fork over £510 or £2020 (it depends on the weight of gold used. Whoops! The £2020 coin is sold out.)
Yes, they'll be legal tender, but who would deliberately spend one of these things?
Queen's Roger Taylor had this to say: "Marvellous, all this fuss over our band. I feel entirely spent." Hah. Funny.
Here's statement from Nicola Howell, the Royal Mint's Chief Commercial Officer: "Queen were one of the most influential bands of their generation, and their timeless classics are still enjoyed by millions of fans around the world. That's why we're so pleased to be honouring their great contribution to British music with their very own coin, which will be the first time a British band has been celebrated on UK coinage. British music is one of our greatest contributions to culture around the world, and it's musicians like Queen who are at the forefront of this."
No doubt all of these coins will soon sell out. Shop now.