Quick-thinking tour bus driver saves all of Big Wreck's gear when things catch fire
There was some unnecessary excitement following the conclusion of Big Wreck's tour across America with Daughtry. Fortunately, though, there's a happy ending.
Once the tour ended, all of Big Wreck's gear had to be returned to Canada. Rather than ship it, they left everything in a trailer behind their tour bus and CJ, their driver, would haul it back to Toronto. This was the cheapest way to do things.
On the third day of CJ's drive, the bus's engine caught fire. Not good.
Safety protocols say that if this happens, the driver is to pull over immediately, get out, and call the police and the fire department. But not CJ.
He knew he was towing a lot of very special and expensive gear. When the fire started, he immediately pulled over. But instead of abandoning ship, he raced around back, unhooked the trailer with the gear, got back in the burning bus, drove it ahead 10 metres, grabbed a few things, and then bailed.
All of Big Wreck's gear was saved. CJ is safe. The bus? Not so much.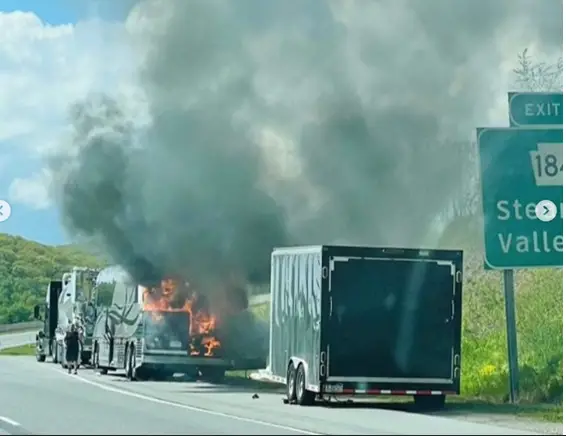 There have been a couple of tour bus fires this year, including with Halestorm back in January and Gave of Four in March.