Raconteurs to Tell More Stories in 2019
Third Man Records announced their 38th Vault Package – the last from them this year – a reissue of The Raconteurs' second album Consolers of the Lonely in commemoration of its 10-year anniversary.
Besides it being repressed on two copper foil LPs, other goodies included will be an embroidered patch of a stylized "R" as well as a sticker set in brushed silver. Oh, and a 7″ record featuring two brand new Raconteurs songs we don't even know the names of yet. Yes, the garage-y power pop foursome have apparently been recording in between their members' busy schedules "that will ultimately result in a new Raconteurs album in 2019!!" according to a TMR post. That's all we're being told until Vault subscribers start receiving shipments towards the end of November. If you want to get in on the excitement, you had better sign up to ThirdManRecords.com/TheVault before midnight Central Time on October 31st.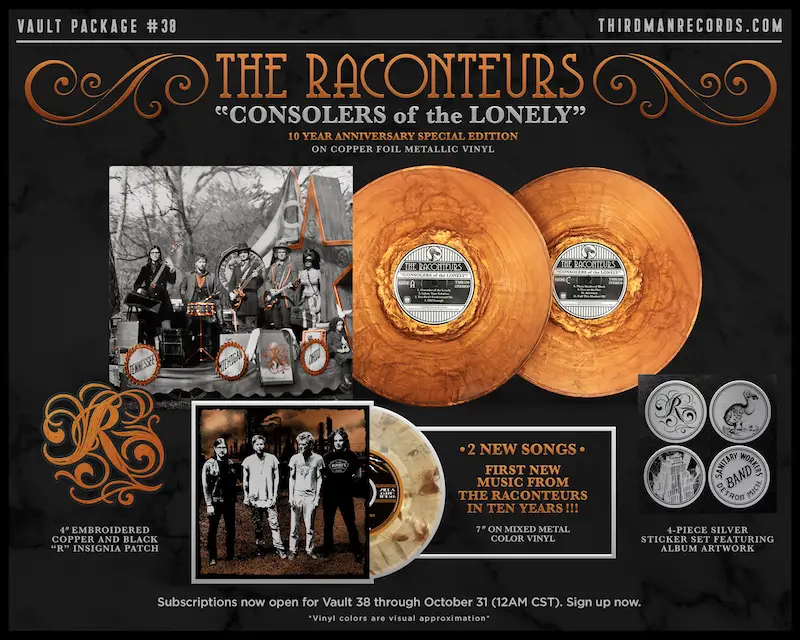 From left to right in the top featured image, The Raconteurs are comprised of "Little" Jack Lawrence (Dallas Green's current bassist in City and Colour), Patrick Keeler (who has been drumming for The Afghan Whigs since 2014), , singer-songwriter Brendan Benson and Jack White, owner and proprietor of Third Man Records.