Radio Is In Great Shape, Thank You
Every time I speak to tech people, they seem dumbfounded that the terrestrial radio industry still exists. "You still listen to radio?" comes the wide-eyed exclamation. It's as if I told them I still believed in leeches and phrenology.
Well, yes, I do. I still work in the industry and hope to for a very long time to come. Does the industry face challenges from both a technological and demographic point of view? Yes. Is the radio industry looking at ways to evolve so it can continue to survive? Yes. And are there thousands of broadcast students begging for jobs in radio? Yes?
Radio futurologist James Cridland would like everyone to look at this slide.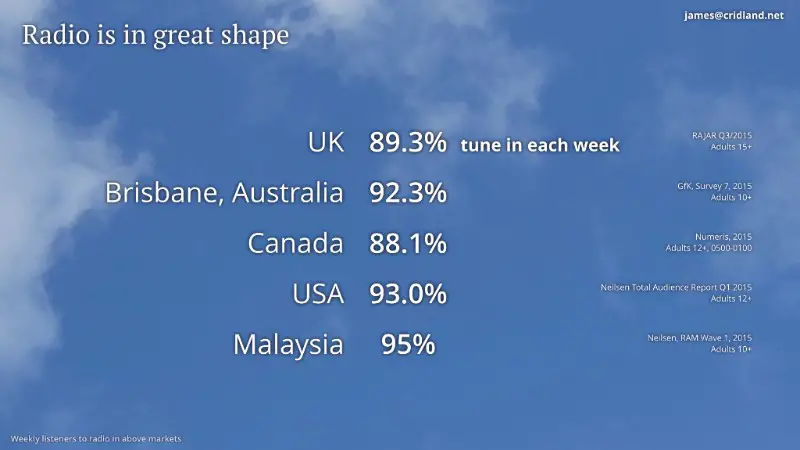 James also points us to this article entitled "The Most Used Medium by Millennials? Radio."
When you think of Millennials and media, the first thing that pops in your head is probably a smartphone. Then you may think of a tablet or a laptop.
Or maybe one of those cool connected TV devices, such as the Amazon Fire TV Stick or Google Chromecast, or a PlayStation.
You probably don't think of radio when you think of these young people. But probably you should.
A new report from Nielsen finds radio has a wider reach each week among adults 18-34 than any other medium.
The data comes from the measurement company's first-ever Comparable Metrics Report, which aims to make apples-to-apples comparisons between different media for a better picture of what people are consuming.
It finds that, among 18-34s, 91 percent use terrestrial radio each week.
That's more even than smartphones, at 82 percent, TV connected devices, at 49 percent, and tablets, at 33 percent.
It's also well ahead of TV, at 76 percent.
The Nielsen study looked at other demographics as well, including people 35-49 and over 50. For all adults and adults 35-49, radio's weekly reach trumped all other media, though radio and TV were equal at 91 percent among those over 50.
Why does traditional radio continue to resonate with young people, at a time when they have so many options?
Nielsen says in part it's because the medium has established itself so effectively as the place to find new music, which young people have always been drawn to.
A Nielsen survey earlier this year found 59 percent of Millennials and younger said they use radio to discovery new music, ahead of even streaming services such as Spotify.
"In many ways radio has been doing this all along – serving up new music, curated by people who love the craft, with a local flavor and all for free. And now, in today's digital, on-demand age, the virtues of that experience are paying off for radio," says a Nielsen spokesperson who talked to Media Life.
The report did find that 18-34s spend the most overall time each week with TV, at 19 hours and 33 minutes, and smartphones are second at 11 hours and 26 minutes.
Radio's not far behind smartphones, though, at 10 hours and 59 minutes. And in all other demos, radio ranks second to TV.
Read more here.