This Radio Station Swears It's Not Racist Despite Calling Themselves "White Pride Radio." However…
If you'd taken a drive through Harrison, Arkansas, a small down northwest of Little Rock this week, you might have seen this billboard.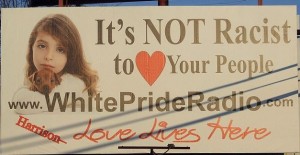 Okay, so maybe there's something of an argument to be made, albeit an explosive one.  But when you browse to that URL, you're redirected to KKK Radio, an online station operated by the Ku Klux Klan, which runs shows like "This is the Klan," "White Women's Perspective" and "The White Side."
The billboard is the work of the Knights Party of Zinc, a front for the KKK.  They've paid for one year's worth of advertising.
Read more about what the hell is going on at The Daily Mail.