Radio Is Still VERY Popular, But…
Contrary to what you'll hear from tech-savvy people, traditional radio is still doing just fine. Audiences are still big and the profits are still there. However, it's not the only game in town anymore. A survey commissioned by Morgan Stanley (see the full report in Quartz) shows how 2,000 American adults used audio.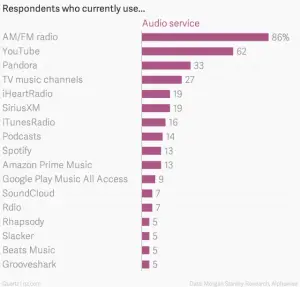 The numbers for Canada will be different given that we don't have access to Pandora, iHeartRadio, iTunesRadio, Amazon Prime Music and Beats Music.  But as the US goes, so do we–eventually.