Radio: Still WAY More Popular Than Some Will Have the Public Believe
I've got so many tech friends who are always asking me "You still listen to radio? Like, actual AM and FM?" Talk to them enough and you'll get the impression is that old-school over-the-air radio is over and done.
I also have plenty of people in the agency business. "Radio?" they'll say, "In a complete and total decline. We've moved on." Spend an hour with them and any radio people will want to shoot themselves in the head.
That's perception. Here's the truth according to a new study just released in the US.
Advertisers think that the best radio can do is attract 64% of Americans to AM and/or FM listen. Looking at actual radio ratings, the number is 93%.
Those same advertisers think that as many people use Spotify and Pandora as they do regular radio. The truth is that AM/FM usage is 9 times higher than Pandora and 17 times higher than Spotify.
TV misses one in four millennials. They're busy watching other screens. AM/FM radio reaches 93% of them.
Source: FYI Music News.
RAIN has a little more on the subject of perception vs. reality.
In addition to the disruptive challenges faced by traditional radio as streaming continues to grow, there might be a perceptual challenge for the industry's relationship with advertisers. That's what Westwood One sought to reveal in a commissioned study from research company Advertiser Perceptions, the results of which can be interpreted to indicate that radio has greater consumer reach than buyers perceive.
The study results were combined with existing Nielsen and Edison research to paint a picture of radio's supremacy over streaming in audience reach. Cumulus CMO Pierre Bouvard packaged the combined presentation in a SlideShare display called Perception and Reality (see it here).
And Jacobs Media would like everyone to look at this chart that outlines where and how people discover new music. Radio is still #1.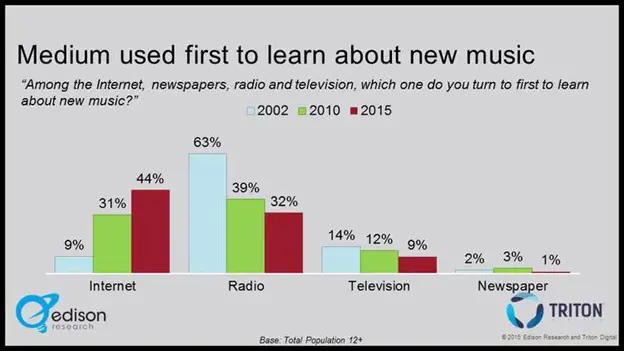 Tell me again how radio doesn't matter any more?
That being said, the industry needs to keep investing in new technologies and new ways of doing things so radio maintains this kind of dominance. What does that mean? There's the catch. Go back and read this article to see what the challenges are.