Radiohead fans likely left High and Dry for Toronto shows
No surprises here:  both Radiohead shows in Toronto sold out incredibly fast Saturday morning. The band hasn't played a show here since a stage collapse in 2012 that killed one worker. (The legal case is still working its way through the court.)
Presale for the July concert sold out right away. General sale started at 10 a.m. and looked like this right away: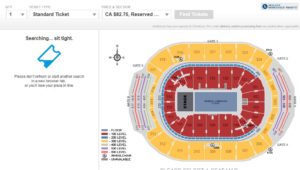 Within minutes, nothing happened. The little blue ticket icon kept filling up and going white, over and over again, as it searched –allegedly – for seats.
Curious, I went to Twitter to see how everyone else was faring.
It won't even let me search for tickets right now. Sigh

— AlexConde (@AlexConde) February 24, 2018
21 minutes and counting. I'm hearing now that after I 'Sit tight' I'll receive an error page. Seriously @TicketmasterCA these are Dream seats 😩 pic.twitter.com/5MNXWTCySy

— CandiBlaze (@CandiceAblaza) February 24, 2018
Nah. I'm over it. I'm moving on. 🙂 I figured it would be hard… just not that hard. Holler back if you have luck.

— Ketrina Hoskin (@treenhosk) February 24, 2018
It was a lot of hit and miss. More misses than hits, unfortunately.
Keep in mind, this was for the Friday show. The verdict was likely the same for the Thursday show.
Oddly, there were plenty of tickets available in other cities, including Columbus, Pittsburgh, Philadelphia, Cincinnati, Boston, Montreal—Detroit only had single seats available, but tickets were up for sale.
New York City, Toronto and the first night for Chicago are sold out.
Might the anti-bot legislation in the United States, now in place for more than a year, have something to do with this? Probably not: Elton John's tour, with stops all across the country, sold out nearly instantly.
The damn bots are still winning.
I'm one of the lucky ones. I managed to get a single seat in the 300 level for Toronto but it took about 15 minutes of waiting, using both my phone and laptop.
Did you try for any of these shows? Did you have any luck or know anyone who did?
Of course, there's always Stubhub… within hours, we're looking at seats starting at $134.