UPDATE: Radiohead Listening Session in Istanbul Attacked by Thugs. Fans Beaten.
NOTE: Scroll down for the latest news.
Today (Friday, June 17), Radiohead held a global streaming event at dozens and dozens of independent record stores in celebration of the physical release of A Moon Shaped Pool. Attendees were treated to specially curated playlists, contests and exhibitions of artwork.
That included Velvet Indiground Records in Beyoğlu, Turkey, near Istanbul. This is  the one store where things got weird and scary for the reported 1,000 people or so hoping to attend.
Upset that the event was happening during Ramadan, the store was besieged by a group of men which launched some kind of attack.
Here's a quote from the person who is said to have taken the video:
i was one of the hosts. i am the person that's speaking in that video. i am the owner of that periscope account. they were determined to kill us. we were beaten by more than 20 men with pipes in their hands, beer bottles were broken on our heads, i don't even know how we made it out. i will share the details later guys. just hoping that noone will die
Then there's this from the store's Facebook page: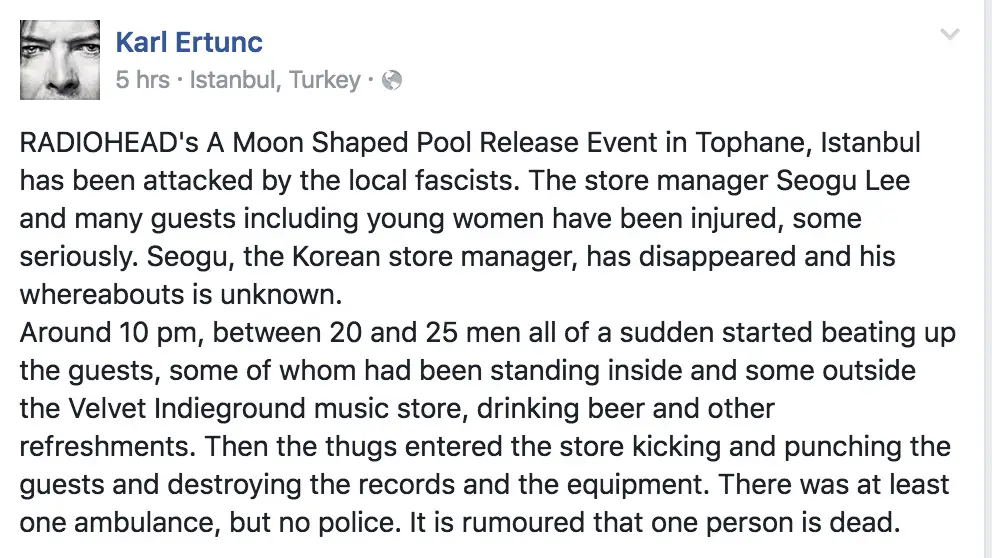 A translation from CNN Turkey.
Istanbul's Beyoglu stick attacked a group Radiohead event held in place called the Velvet Firuzağa İndieground Records in the district. press event for the attackers said that they consumed alcohol during Ramadan, he beat many people.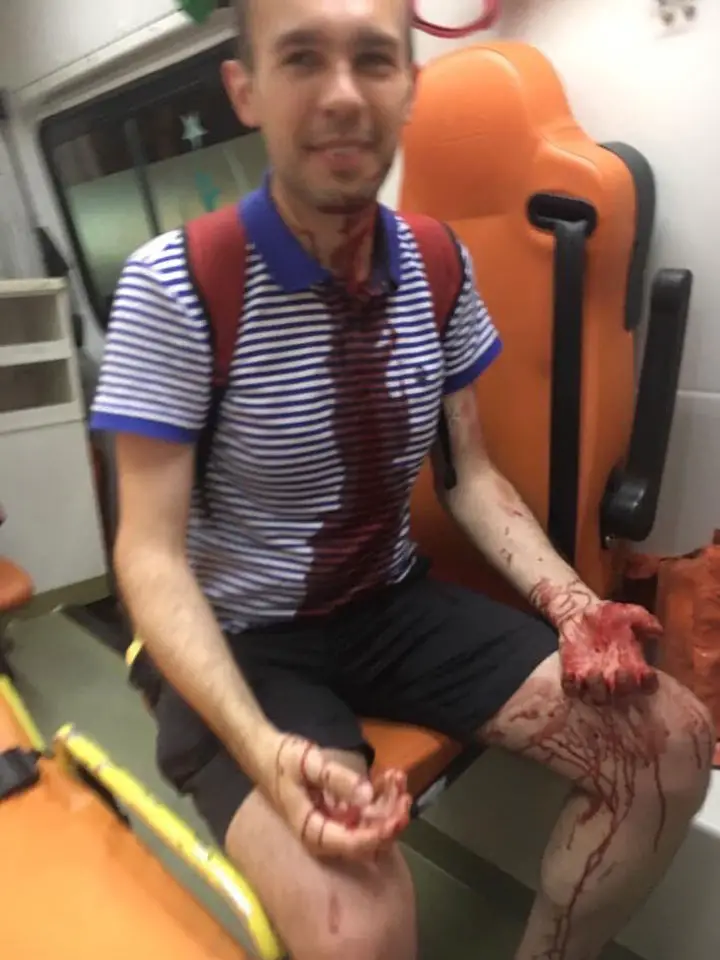 Radiohead has made a statement:
Our hearts go out to those attacked tonight at Velvet IndieGround in Istanbul. We hope that someday we will be able to look back on such acts of violent intolerance as things of the ancient past. For now, we can only offer our fans in Istanbul our love and support.
UPDATES: Al-Jazeera reports the following:
Battles between police and protesters broke out on Saturday near the shop when "hundreds" of people assembled to in a rally against the attack. Several people were arrested and tear gas and water cannon were used to disperse the protestors. One report says that rubber bullets were used.
Seogu Lee, who's from South Korea, is the owner of the shop. He was served with an eviction notice by the landlord of the building over the weekend because of what happened on Friday. "We heard there had been an incident in the evening," the landlord said, "so we asked him to vacate the property."
The mayor of the town made a weak condemnation of the attack, seeming to blame the victims for filming what happened.
Three people have been taken into custody in connection with Friday's attack.