Radiohead Might Be Burned By Video
Did Radiohead infringe on the copyrighted imagery associated with a beloved British kids' show from the 1960s? That's the burning question surrounding the video from "Burn the Witch," the first single from the band's latest album, A Moon Shaped Pool.
At first glance, the video takes a tour through a village with ordinary people seeming to go about their daily business. Slowly, however, a more sinister chord is struck: six masked villagers appearing to wear deer skulls with antlers still attached while carrying swords dance ritualistically around a woman who is tied to a tree. There's what appears to be an animal baked into a pie, leg bones sticking out while blood drips to the ground. A platform decorated with ribbons and roses is holding up a hangman's noose. And the outsider, a man who walks around the village with a checklist, is encouraged to climb up into the wooden statue of a man, into which he is locked while the statue is burned. None of the villagers have mouths with which to speak out in protest, not that any of them appear concerned or frightened by what's taking place.
But what might be most disturbing to some viewers, especially if they grew up in the UK during the late 1960s, is the striking resemblance the characters bear to the residents of three animated shows, Trumpton, Chigley and Camberwick Green, created by Gordon Murray. Now his family is considering taking legal action against the band for infringing on copyrighted images and characters.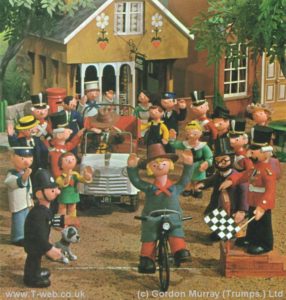 Now, when the video was first released almost two weeks ago, Pitchfork reached out to Murray's family to ask about the video. His son-in-law, William Mollett, told the website "I'm not aware of anything, no."
Pitchfork noted at the time that the video's director, Chris Hopewell, wasn't available for comment and that Radiohead's publicists similarly weren't able to be reached to discuss whether any permissions were pursued to use the characters, which were instantly recognized in the UK.
The Guardian notes that some of the characters from the so-called "Trumptonshire" series, including Windy Miller, the town's mayor, and town florist Mrs. Cobbit, look almost identical to characters in the Radiohead video.
Over the weekend, Mollett was interviewed by the Daily Mail and he's not happy.
"Radiohead should have sought our consent as we consider this a tarnishing of the brand," Mollett said. "It is not something we would have authorized. We consider that there is a breach of copyright and we are deciding what to do next."
He also confirmed that Murray had not seen the video. Murray's 95 years old now, Mollett noted, and he had no intentions of showing his father-in-law the video for fear of disturbing or angering him. "Gordon would be appalled," he said.
For what it's worth, it's not just Murray's work alluded to or outright lifted in the video: The burning wooden figure is straight out of the 1973 film The Wicker Man, in which an outsider is burned alive in the wooden figure of a man on a remote island.
Or, there's the approach taken by Aidan Smith over at Scotsman.com, who writes that it shouldn't come as such a surprise that a beloved children's show has been, possibly, used as the foundation for something that could be viewed as terrifying.
"Me, I say Trumpton was always scary so what's the fuss about?," he writes. "All stop-motion animation – the technique used by Murray and the other giants of children's telly – was terrifying. Those expressionless faces, the unblinking eyes, the slow, sinister gestures. The string-and-sealing wax geniuses didn't intend their shows to frighten junior audiences but that's often what they did. And, I'd argue, it was no bad thing."
He continues: "Look at children's television now. Squint through sunglasses at it. The garishness, frenzy and urgent matey-ness of it all is just too much. And after you've turned off the TV you're left with a sullen brood with poor attention spans who answer you back in Disney voices that are, well, super-annoying."
For what it's worth, Radiohead has yet to respond to the accusations.