Radiohead Teams with Dead Drum Tech's Family for Inquest into Stage Collapse
It was around 4 in the afternoon on a Saturday afternoon in June 2012 when the accident happened. Scaffolding, lightning gear and sound equipment that had been erected for a Radiohead show at Downsview Park in Toronto collapsed onto the stage below. In amongst the twisted metal and smashed musical instruments was the body of Scott Johnson, a longtime member of Radiohead's road crew who had worked with drummer Phil Selway. He'd been crushed by a video monitor that weighed 2,270 kg. Scott died instantly.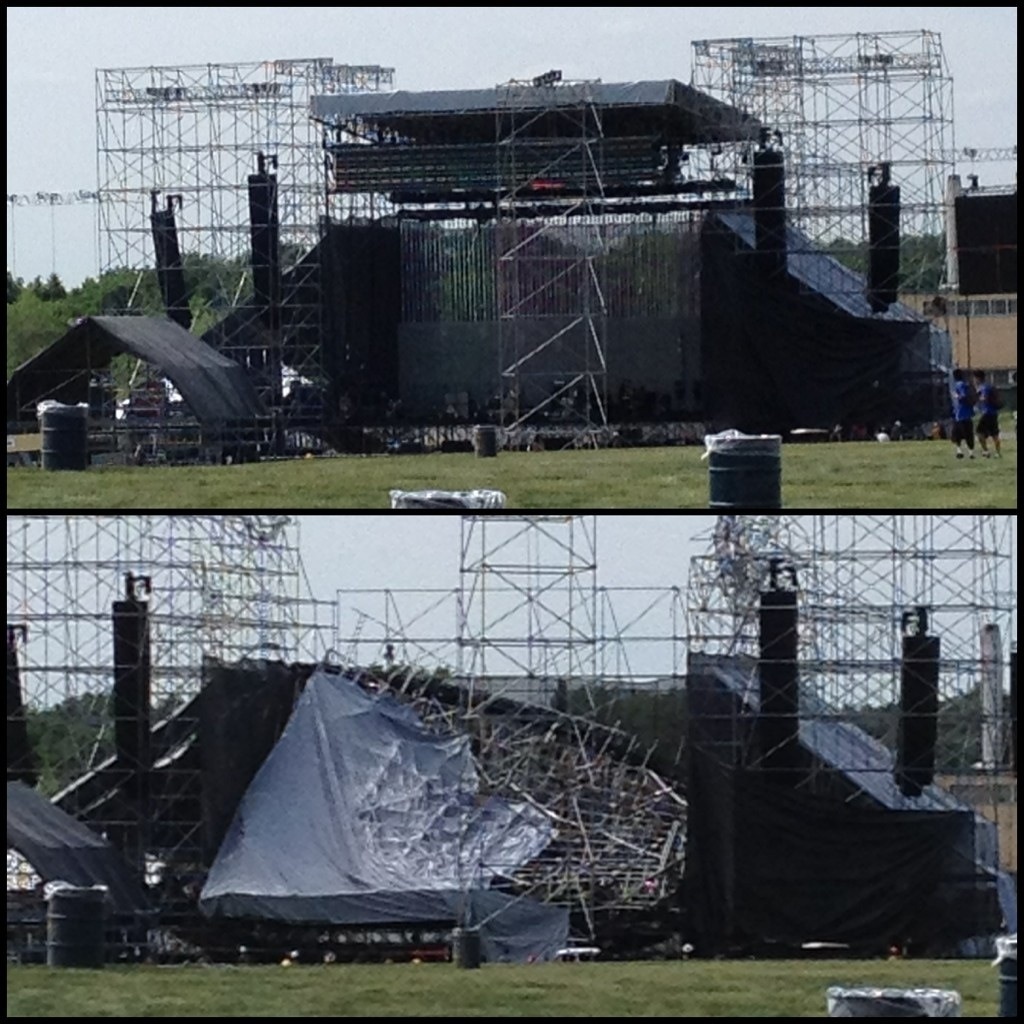 Radiohead had been due to soundcheck at 4:00 but was running a little late. If they had been on time, they would have been onstage when everything came crashing down.
A year-long investigation was launched into the June 16, 2012, accident by the Ontario Ministry of Labour.  A total of 13 charges were filed against Live Nation, Optex Staging & Services and Dominic Cugliari, the engineer in charge of supervising the build. A trial began in the Ontario Court of Justice the following year with all three defendants pleading not guilty.
Things dragged on. With just three days left, the original judge, Shaun Nakatsuru, got a new job. He was appointed a judge in Ontario Superior Court, which meant that he no longer had any kind of jurisdiction in the Radiohead case. A mistrial was declared. That's what the law said had to happen.
By the time the new judge, Ann Nelson, was appointed, more time had passed. Three years, in fact. When the defense applied to have the case dropped, Judge Nelson had no choice but to look at something called the Jordan ruling, a landmark Supreme Court of Canada ruling that set out definite and strict timelines of a person's right to a speedy trial in this country. To deny that was against the Canadian Charter of Rights and Freedoms.
When she realized that a new trial would extend to at least May 2018, Judge Nelson again had no choice. The delays were in violation of the rights of the accused. All charges were stayed, meaning that the case was essentially dead.
You can imagine the reaction of Scott Johnson's family and that of Radiohead. Were they going to just let this go? Could they allow the case to be dropped because of series of legal technicalities? No.
Radiohead, together with the Johnson family, have been pushing for the chief coroner of Ontario to launch an inquest to determine who was ultimately responsible for the stage collapse. Working with MPs in Britain and pressuring the Canadian High Commission, they hoped to have someone do…something. Today, they appear to have been successful in getting a new inquest launched. Someone may finally be found accountable for the accident.
More details to follow. Meanwhile, get more background from the CBC.