Rage Against the Machine-Public Enemy-Cypress Hill Supergroup to Make Live Debut in LA
Prophets of Rage, featuring everyone in Rage Against the Machine except Zack, Chuck D from Public Enemy, B-Real from Cypress Hill and DJ Lord, made their live debut in LA Tuesday night (May 31) at the Whiskey in LA. Here's the email that went out ahead of the gig.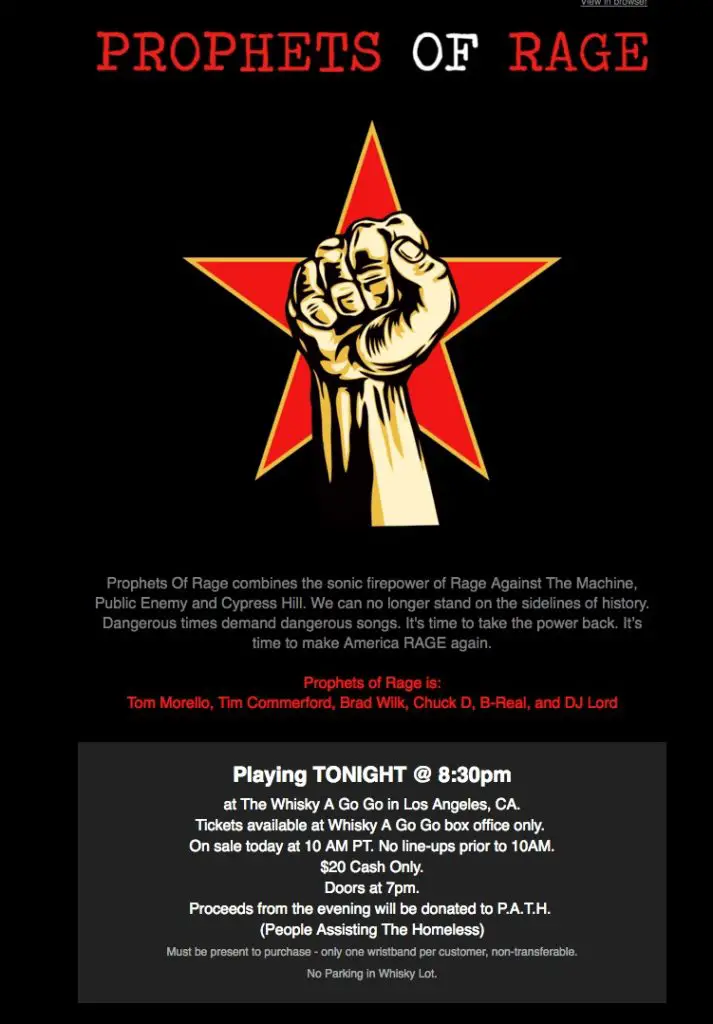 So what did the fans who toughed out the line get? Billboard has this review:
Prophets of Rage, which has enlisted the rallying cry #MakeAmericaRageAgain, formally announced its existence just this week. Their first performance was hardly a disappointment: material leaned heavily on Rage Against The Machine's prophetic rock, with Morello, Commerford, and Wilk passionately playing songs like "Sleep Now in the Fire" and "Bulls on Parade" with clear, ongoing love for the material, Morello'strademark wah-and-octave-pedal punctuation wailing over the tops of Wilk andCommerfeld's always-solid playing. That duo's long been one of the most underrated rhythm sections in rock, and that hasn't changed since the original band's mid-'90s heyday; their grooves are powerful, their time precise.
But Prophets of Rage is missing one of the most essential parts of Rage Against The Machine — and everyone involved knows it. "[The band is] paying homage to the great lyrics of the great Zack De La Rocha," said Chuck D, ironically just before the band played one of the few non-Rage songs of the show, Public Enemy's "Miuzi Weighs A Ton." While the band was active, De La Rocha was incessantly intense and thoroughly believable onstage, summoning up yell-rhymes that, when he was on (which was often) came with a relentless, unmistakable energy. Thankfully, neither Chuck D nor B Real attempted to imitate De La Rocha, but that also meant that as they recited his lyrics, it sometimes came off as cover-band safe rather than agit-rock powerful.
Read the entire review here.