Rdio Files for Bankruptcy. Pandora to Pick Off Assets.
And so it begins.
Rdio, one of the more well-known streaming music services, announced today (November 16), announced that it was given up the ghost and filing for Chapter 11 bankruptcy. Seconds later, Pandora announced that it was going to purchase select Rdio assets ("technology and intellectual property") for $75 million. As far as anyone can tell, Rdio operations will be wound down worldwide and the brand will eventually cease to exist.
This isn't quite a done deal yet. It all depends on Rdio acquiring Chapter 11 protection in the US Bankruptcy Court for the Northern District of California. There's a slight chance that someone else might swoop in to pick on its carcass, but that's unlikely.
Crap. And I have all those Rdio playlists I've made over the years. Buh-bye, huh? (See Mark's handy tips in the comments section below for exporting them while you can.)
Having had a relationship with a number of people in the company (and trying to cement some business relationships with the company, all leading to strange dead ends), I had a feeling that something wasn't right. And in the last few weeks of dealing with, I had the distinct impression that some kind of big business announcement was in the offing. But bankruptcy?
The company, despite its terrific UI (I like it much better than Spotify) and a history of innovation, had been tanking for months.
In hindsight, though, I'm not surprised. There are too many players in the streaming music arena and some consolidation is desperately needed. Besides, Spotify–even though they continue to burn through hundreds of millions of dollars a year and nowhere near profitable–was the first mover in the space and established an insurmountable market lead.
Check out this chart from The Verge. Where's Rdio? Oh…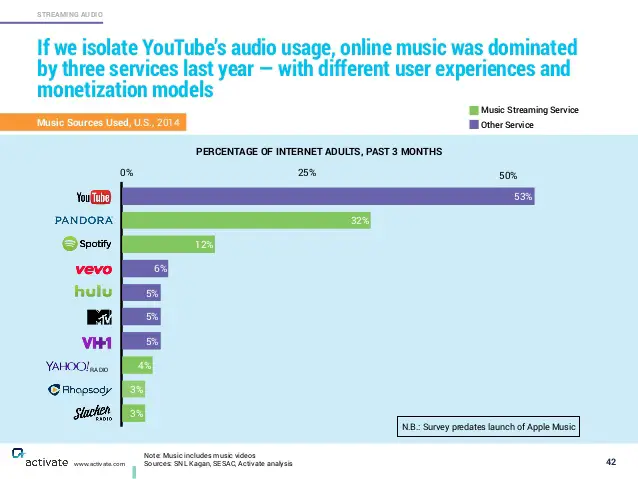 Then again, Rdio never, ever divulged its subscription or user numbers. Now we know why.
The winnowing had already begun. Apple Music is going to kill off the original Beats service by the end of the month. BOOMio, a music service I'd frankly never heard of, announced that it's going out of business. (They also say they will be back. Somehow.)
So what's going on with this new deal? Some things to consider:
Rdio operates in almost 100 territories. Pandora operates in just three: the US, Australia and New Zealand.
Pandora's international expansion is hampered by the licensing deals that aren't at all favourable. For example, the company used to operate in Canada but pulled out when costs exceeded their tolerances.
Pandora is a radio sort of service–that's how they describe themselves: an Internet radio company–and not like all the streaming music service and with a much smaller library. Acquisition of Rdio should allow Pandora to compete directly with Apple Music, Spotify, Rhapsody, Slacker, Google's services, Deezer and all the rest. Here's a quote: Pandora aims "to offer an expanded Pandora listening experience," by some point in 2016.

Pandora owns Ticketfly, which shows that they want to expand their footprint in the music industry. 

But Pandora lost $86 million last quarter.
Cumulus, the second-biggest radio group in the US, has a $100 million (at minimum) equity stake in Rdio. At the same time, Cumulus is in a terrible, terrible debt position at the moment and may itself be on its way to bankruptcy. They released this statement: "As a result of Rdio's bankruptcy filing today in anticipation of Pandora acquiring its technology and award-winning design, Cumulus will no longer be airing radio ads for Rdio. Cumulus stations now streaming through Rdio Live will remain available until the Rdio service winds down, which is expected to occur after the transaction is approved."

Shaw, the Canadian cable company, also has an equity position in Rdio, but I don't know how much.

I wonder what the record companies think about this, especially since they've had issues with Pandora?
Music Industry Blog has gone deep into the possibilities here. Further coverage can be found here, here and here.  And here, too.