Realistically, What Kind of Chance Does Neil Young's Pono Plan Have?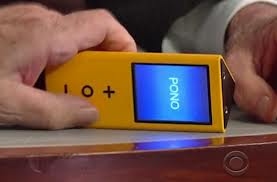 In case you haven't heard, Pono (PO-no, apparently Hawaiian for "righteous") is Neil Young's digital music format. Those who have heard it say it sounds as good as an original analogue recording. A line of Pono players is planned for release next year.
But here's the question: what chance does it have against iTunes' ACC format and the MP3s we've all grown used to?
Let's look on the positive side first.
Pono sounds great. So great, in fact, that all three major labels–Universal, Warner and Sony–are interested in taking a look. Maybe they're hoping that Pono will do for their bottom line what the CD did back in the 80s.
Audiophiles are interested. Vinyl sounds fantastic but is inconvenient. .WAV files are okay in a pinch but have their issues. FLAC is okay, too, but not nearly as good as pure analogue.
Pono players can apparently handled MP3s, AAC and other formats.
And, er, that's it.
On the negative side, we have this:
Whatever we may think of MP3s and other compression music algorithms, they've become the standard for music. Getting people to switch formats just because it sounds better is a tall order. In case you haven't noticed, fewer people care about true high fidelity sound these days.
iTunes doesn't support Pono. Hell, try getting iTunes to play FLAC.
You can't convert MP3s or ACC files to Pono. You'd have to re-purchase all your music in a new format, just like when the industry got us to buy CD copies of the vinyl we already owned.
Still, I applaud Neil on his effects. I, for one, treasure high-quality audio. But until I'm assured that I won't have to completely redo my music library, I'm not interested.