Recommended Reading: Lemmy: The Definitive Biography
Sex, drugs and rock'n'roll. To many of Motörhead fans, frontman Ian "Lemmy" Kilminster embodied just that. Rock biographer Mick Wall takes an up close and personal look at the hard and fast life of Lemmy in his new book Lemmy: The Definitive Biography
.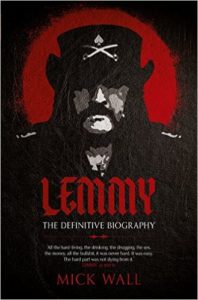 A former music journalist and former Motörhead publicist, Wall began having conversations with Lemmy in the late 90s after the rocker had a health scare. According to Fiona Sturges of The Guardian, Lemmy "felt that it was his time to record his life story just in case. Soon, though, he was back on the road and had resumed his customary diet of speed and cigarettes, so Wall put the tapes away and got on with more pressing projects".
Last year, Wall revisited his recordings and began to transcribe them just as Lemmy's health began to rapidly decline. Another interview was planned for the beginning of this year, but with his death in December, that meeting never transpired.
Wall's book gives an in-depth glimpse into Lemmy's Rock 'n Roll lifestyle filled with the rocker's one-liners and anecdotes of living a wild life.