Record Label Hooks up with F1 Racing Team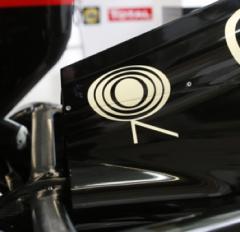 It is hideously expensive to play in the Formula 1 playpen.  Teams are always chasing deep-pocketed sponsors to pay for developing and racing their cars.  So when I saw that a record label now has a deal with an F1 team, I was rather surprised.
A record label?  In F1?  
Yes.  But don't call it a sponsorship because it's not.  They prefer to call it a "partnership."
Music Week (subscription) reports that Columbia Records–part of the Sony empire–has inked a deal with Lotus to provide "bespoke Columbia CDs and vinyl products, as well as music guests and performances throughout the season."  
Furthermore, Columbia's "walking eye" logo will appear on the E21 car all season. And should you be lucky enough to be invited into the team's paddock at a race, expect to walk away with some of the aforementioned bespoke CDs.