Reflecting on 30 years at CFNY/102.1 the Edge
At exactly 12 noon on October 3, 1986, I climbed the stairs at the strip mall at 83 Kennedy road in Brampton for the first time, presenting myself as the new all-night person for CFNY-FM, The Spirit of Radio.

The station was playing in the reception area offering coverage of the sod-turning ceremony at a new sports facility in downtown Toronto that would later be known as the Skydome.
Outside of a three-year period where we decided we'd see other people (okay, so it was the station that made that call, not me. But we've obviously gotten back together), I've never really left. So minus those three years and today–October 3, 2019–marks my 30th year at the station.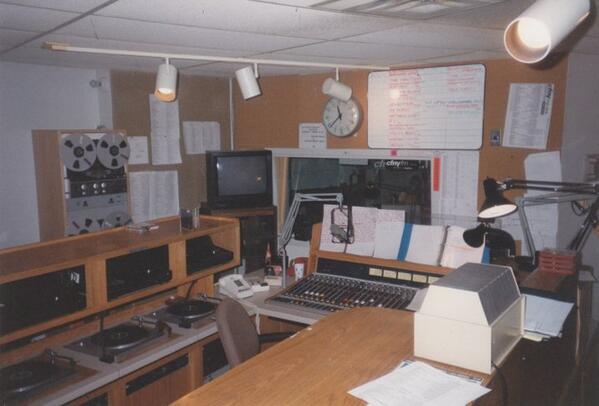 An odd thing, this. Radio people rarely stay in one place for very long. They either find new gigs, get transferred, find themselves laid off or fired. The only explanation I have for my longevity is an insane amount of good luck and my position as a popular music geek through The Ongoing History of New Music. I've also been willing to adapt to new conditions, new rules, new bosses, and new technologies. I learned long ago that if you coast along thinking that everyone will be fine, you'll soon be out of a job.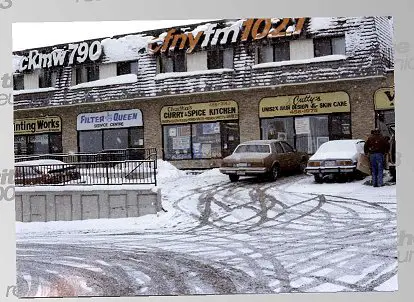 A 30th anniversary is occasion for reflection and marveling at how much things have changed from that first day I was at the station in 1986 and now.
Then: Live announcers around the clock. There was always a live human at the station 24/7/365.
Now: Voice-tracking (pre-recording of announcer bits dropped in between songs by a playback computer).
Then: Music came mostly from vinyl although we were moving quickly to CDs. Each song had to be cued up/loaded individually, meaning that the announced had to do something roughly every three or four minutes.
Now: Music is programmed into an industrial level playback system which is 100% digital. The computer handles all mixes and segues.
Then: A shift began by pulling all the records/CDs you wanted to play from the shelves. After each selection was played, you had to refile them correctly.
Now: Everything is on the server. No filing required.
Then: CFNY jocks back in the day were lucky in the sense that we had a tremendous amount of latitude over what music we played. We really did choose most of our own music following some very rudimentary and simple rules.
Now: A music director uses a software program to create a schedule of what songs need to be played in what order.
Then: Commercials were loaded onto carts, 8-track-like tape cartridges played on special machines. Each hour, you had to stack all your commercial carts next to the machine, load each in the correct order and then fire each one individually during the commercial stopsets. (Some stations had cart machines that automatically played sequentially. But not ours.)
Then: The request lines rang 24 hours a day.
Now: Most listener communication is done via text, social media and email. The request line rarely rings.
Then: No watching TV! You can have it on if there's something special happening. Otherwise keep your mind on your work!
Now: As the music plays, you need to keep on top of news headlines, answer email, answer texts, post blogs, monitor Twitter, post to Facebook, post to Instagram, and pre-record bits for other programs. Oh, yeah: You're also live on the air from time to time.
Then: Smoking in the control room was almost a job requirement.
Now: You can't smoke within 10 metres of the entire building.
Then: We scoured for music news in trade publications, a wire service, and weeks-old British music papers.News traveled very, very slowly in those days.
Now: Please. The internet.
Then: We had eleven people in our newsroom. Newcasts ran every hour from 6am to 8pm weekdays and 6am to 6pm on weekends.
Now: News has been outsource to Global News Radio 640, the news station in the Toronto cluster.
Then: Announcers made extra money by hosting CFNY Video Roadshows, which were run by Martin Streek. We could attract thousands to special events where all we did was show music videos on a big screen.
Now: Music videos. How quaint.
Then: My coworkers included PD David Marsden, assistant PD and MD, Don Berns, Pete and Geets, Fred Patterson, Kevin O'Leary, JR, James Scott, The Live Earl Jive and Beverly Hills, Scot Turner, Liz Janik, Peter Goodwin, Chris Shepherd, Hedley Jones, Skip Prokop, Daddy Cool, Ted Wolyshyn, Eric Vonn, Bob Noxious, John Masacar, Maureen Bulley, Walter Venafro, Martin Streek, Ivar Hamilton, Kneale Mann, Leslie Kross (David's assistant), Diane at reception, Mary, Emmy, and Nadia in the back office, GM Bill Hutton, Earl Veale, Jimmy Veale, Cliff Cohen in sales, Captain Phil, Darren Wasylyk, Mike Stafford, Rick the news director, and Mary Ellen Beninger. Apologies to anyone I've left out.
Now: Here's what I can tell you to the best of my knowledge about the people I met during those last months of 1986.
Pete, Don, Skip, Diane, Bill, and Martin no longer with us, all having passed on.
David Marsden is alive and well running an online radio station called NY The Spirit.
Geets is a freelance engineer, working for a variety of broadcasting companies.
Fred Patterson continues to work with Humble Howard on a very successful Internet broadcast and podcast.
Kevin, JR, James, and Rick have all been out of the business for a while.
Scot Turner can still be found doing some radio.
Live Earl and Beverly are somewhere in Southern California.
Chris Shepherd lives in Costa Rica.
Liz is a radio consultant while her husband Peter Goodwin was last scene working at CHCH-TV in Hamilton.
Ivar is the VP of Catalogue at Universal Music.
Earl is working in the tech industry.
Darren and Ted are retired.
Bob Noxious runs a raw dog food company.
Captain Phil is working for Telus in Vancouver.
Mike Stafford hosts the morning show on Global News Radio AM 640 in Toronto.
Kneale Mann has been working as a radio consultant.
Walter Venafro is part of the staff at JAZZ-FM/Toronto.
Leslie is high-powered ad executive. We're still constantly in touch.
Cliff is still in sales at The Edge.
Mary Ellen Beninger is a media relations specialist at the Ontario Energy Board. Oh, and we've been married for 29 years.
If you know the whereabouts of anyone I've missed, please let me know, okay. (This is a handy site, too.)
Times change. People come and go. How long can I stick around? As long as they'll have me. This seems to be what I was meant to do.