The Refurbished Sam the Record Man Sign: It's Almost Ready
For decades, the spinning record (and after 1987, records) on the Sam the Record Man sign were one of the most famous sites on Toronto's Yonge Street. But then the store closed in 2007, a victim of the changing music market. The building itself was demolished by its new owners, Ryerson University, and the Student Learning Centre now stands in its place.
As part of the deal, Ryerson promised to do something with that iconic sign. It's now in the final stages of restoration and will be installed at 277 Victoria Street, about a block-and-a-half from its original spot, allowing it to shine down on Yonge-Dundas Square.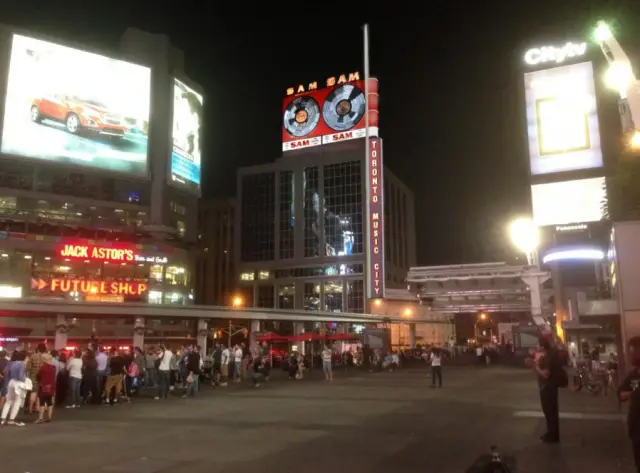 The Globe and Mail has this story about how the job is coming along.
Tony Bianchi from Sunset Neon, a custom signage company, is one of the 25 craftsmen working to restore the historical signs. He spoke to The Globe and Mail about his discoveries, as well as the challenge and excitement of working on the signs that will be hoisted, this fall, onto the roof of 277 Victoria St., overlooking Yonge-Dundas Square.
What did the signs look like when you first began your work?
They looked terrible but some parts were in almost perfect condition. The original signs were made from sheet metal, which rusts over time, so much of the signs were rusted beyond repair and were not salvageable.
What does the procedure for the repair of the signs look like?
We just completed the design stage and there has been no major physical work on the signs yet, but the material has been ordered and is expected to come in at any time. We started by refurbishing the "Sam" letters that were removed and creating the neon tubes. We are also replacing all of the white neon tubes because the glass tubing has lead content and so we are replacing all of those with lead-free glass. We will be also replacing the fluorescent lamps with LED lighting.