Relax: Seattle Police are NOT Re-opening the Kurt Cobain Death Investigation
Despite this story and any tweets you may have seen, Seattle PD is NOT re-opening their investigation into the death of Kurt Cobain. They're apparently been some misunderstanding.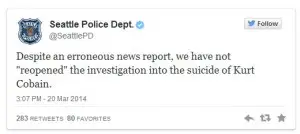 What has happened, though, is new photographs of the death scene have been found and published–like this box full of drug paraphernalia.  (Related article here.)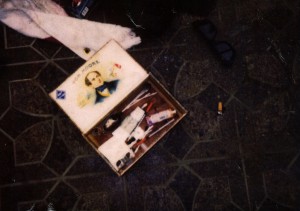 Go back about your business.  Nothing more to see here.
Meanwhile, there's a move afoot to turn Kurt's childhood home into a museum.  Here's what you can do. (Thanks to Pamela Chelin and everyone else who contributed to this story.)