Remember That Radiohead Stage Collapse in Toronto? The Trial is STILL Going On.
I got a text from someone late on the afternoon of Saturday, June 12, 2012. "I guess we're not going see Radiohead tonight, huh?"
No, we weren't. About an hour earlier, the temporary stage that had been constructed for the gig at Downsview Park in Toronto had suffered a catastrophic collapse with the entire upper canopy–including all the gigging for the light–crashed down onto the stage below. Scott Johnson, a 33-year-old drum tech for Radiohead, was killed. The show was cancelled and Radiohead flew home.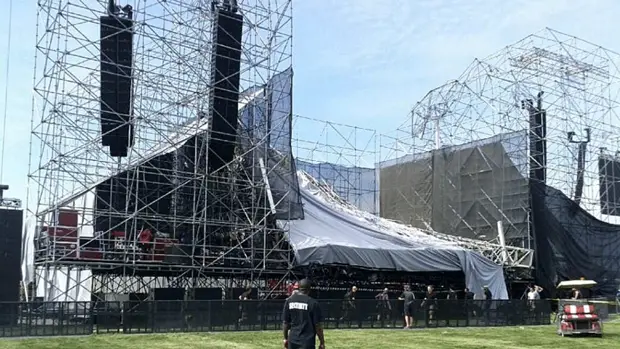 How could this happen? An investigation was carried and in the end, Live Nation Canada, Live Nation Ontario (the promoters) and Optex Staging and Services (the contractors responsible for building the state) were all charged with four counts under the Occupational and Health and Safety Act. One engineer, a guy named Dominic Cugliari, faced a charge of worker endangerment by negligence.
Again, the accident happened on June 12, 2012. Charges were filed exactly 12 months later. And the court case is still dragging on. Why? According to Justice Shaun Nakatsuru, "The issue of how the stage collapsed, and who is responsible for that, is complex."
Everyone will be back in court on December 5 and all concerned hope that things can be concluded sometime in January. Just in case you're wondering, the maximum fine faced by a corporation is $500,000 per charge while Cugliari could end up being fined up to $25K and a year-long jail sentence.
Meanwhile, the family of Scott Anderson–who live in Doncaster, Yorkshire–just want the whole thing to be over.
More at the Toronto Star.