Remembering Théâtrophone, the music streaming service from the 1880s. No, that's not a typo.
We've long taken the ability to summon up audio entertainment on demand, be it through radio, CDs, tapes, and records, or via the internet. But the first method of transmitting audio into private homes has been completely forgotten.
Long before voices and music were transmitted through the air — and even before people owned phonographs and records — the well-to-do in cities like Paris, Lisbon, Brussels, Stockholm, London, and even New York were able to listen to music and theatre productions without having to go anywhere. And in stereo, too.
No, seriously. It was the streaming music service of the 1800s.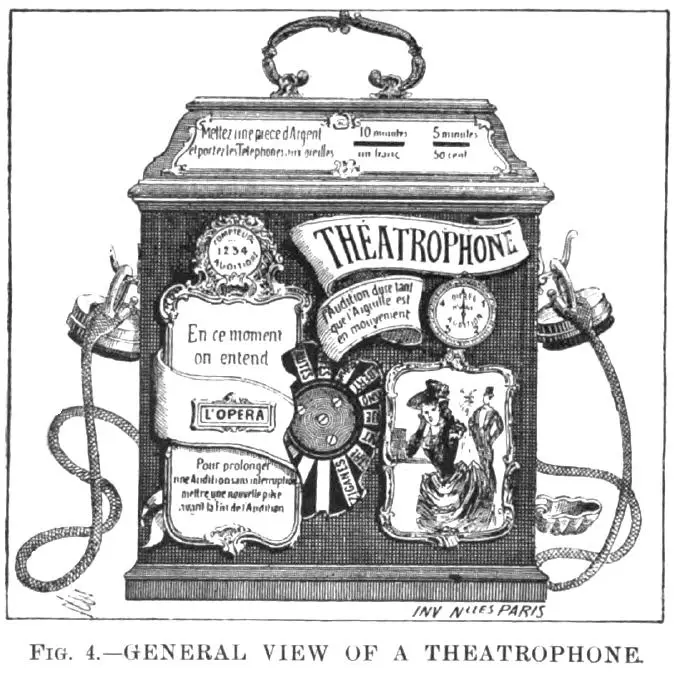 Clement Adler, a French inventor, dazzled the crowds at the International Electricity Exhibition, part of the 1881 Paris World Expo, when he unveiled the Théâtrophone.
Using brand-new telephone technology, he set up 80 transmitters — the carbon microphones from telephones — across the front of the stage of the Paris Opera. Forty were directed at the left side of the stage and another forty to the right. The result was two channels of audio that created a stereophonic image (a "binauralicular audition") of the performance.
Wires were then run through the Parisian sewers from the theatre to the exhibition space two kilometres away where 20 receiving units were set up. Three nights a week, between 8 and 11 p.m., Adler allowed people to listen in to what was happening on stage using two earpieces, which functioned as a proto-headphones. (Like the term "stereo," the invention of headphones was still a couple of decades away.)