Remembering Guy Lafleur–and his disco album
Guy Lafleur was not just one of the biggest stars in Montreal Canadiens' history, but also one of the most flamboyant players the NHL had ever seen. Now that he's gone–he'd had heart and lung issues for years (he'd smoke between periods)–the retrospectives of his life have begun. That includes, somewhat regrettably, the disco album he released in 1979,
Collectors who are concerned with such ephemera know that this album was released in both French and English. It also contained instructional gems like this.
The full tracklisting of Lafleur! goes like this:
Face Off
Skating
Checking
Powerplay
Shooting
Scoring
The whole thing was produced by  Peter Alves and Jack Lenz. (And yes, that's the same Jack Lenz that wrote "OK Blue Jays.") The album also came with a booklet of Lafleur photos and this poster.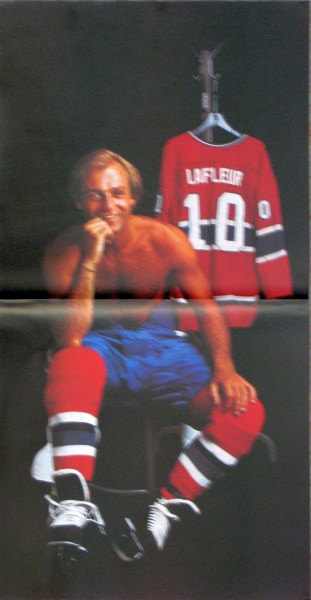 If you want to hear the whole thing, there's this French edition on YouTube.
The fact that Guy recorded an album isn't that unusual given that he was involved in a lot of other non-hockey ventures.
Endorsements for Zeller's, Yoplait Yogurt, stationary, Shasta soft drinks, various automobile manufacturers, and Molson.
He had his own line of maple syrup, table hockey game, and even a cologne ("Guy Lafleur No. 10")
Five different wines