Remembering one of radio's biggest fans: RIP Larry Bates of the "Bring Back the Spirit" Campaign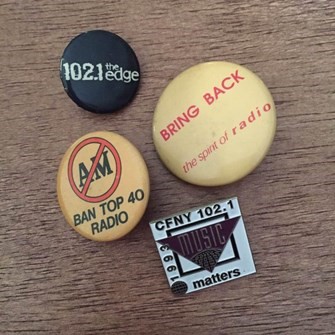 It was a rough, scary time for the staff and fans of CFNY-FM (now 102.1 the Edge). In 1988, the station, saw its parent company, Selkirk Communications, purchased by Rogers. But because Rogers already had the maximum number of radio stations in Toronto allowed by law, CFNY-FM had to be flipped to yet another buyer.
These sorts of transactions take a long time to go through CRTC approval. During that period, CFNY was put in a special escrow situation, a form of limbo where no corporate parent was able to touch it or even offer any input into the day-to-day operations. That was left to local managers. And they went rogue.
Management decided that CFNY need to abandon much of its alternative music heritage in hopes of juicing ratings, perhaps in an effort to keep their jobs when the new bosses came in. What happened was nine months of hell.
I came in one Monday morning to do my midday shift to find that I'd been scheduled music from George Michael and Taylor Dayne amongst the mix of songs by New Order and Smiths. It was awful. Some members of the staff were either let go or quit. We were told to refer to the station as "FM102." The old slogan, "The Spirit of Radio," was killed off.
The station's listener fanbase exploded in anger. The phone line went nuts. I was confronted by furious listeners wherever I went. It was the beginning of a massive uprising and rebellion of the listenership. These people were mad and wanted their old radio station back.
One of the angriest was Larry Bates, a hardcore fan of CFNY's Spirit of Radio approach. He wasn't going to allow his radio station to go Top 40 on his watch.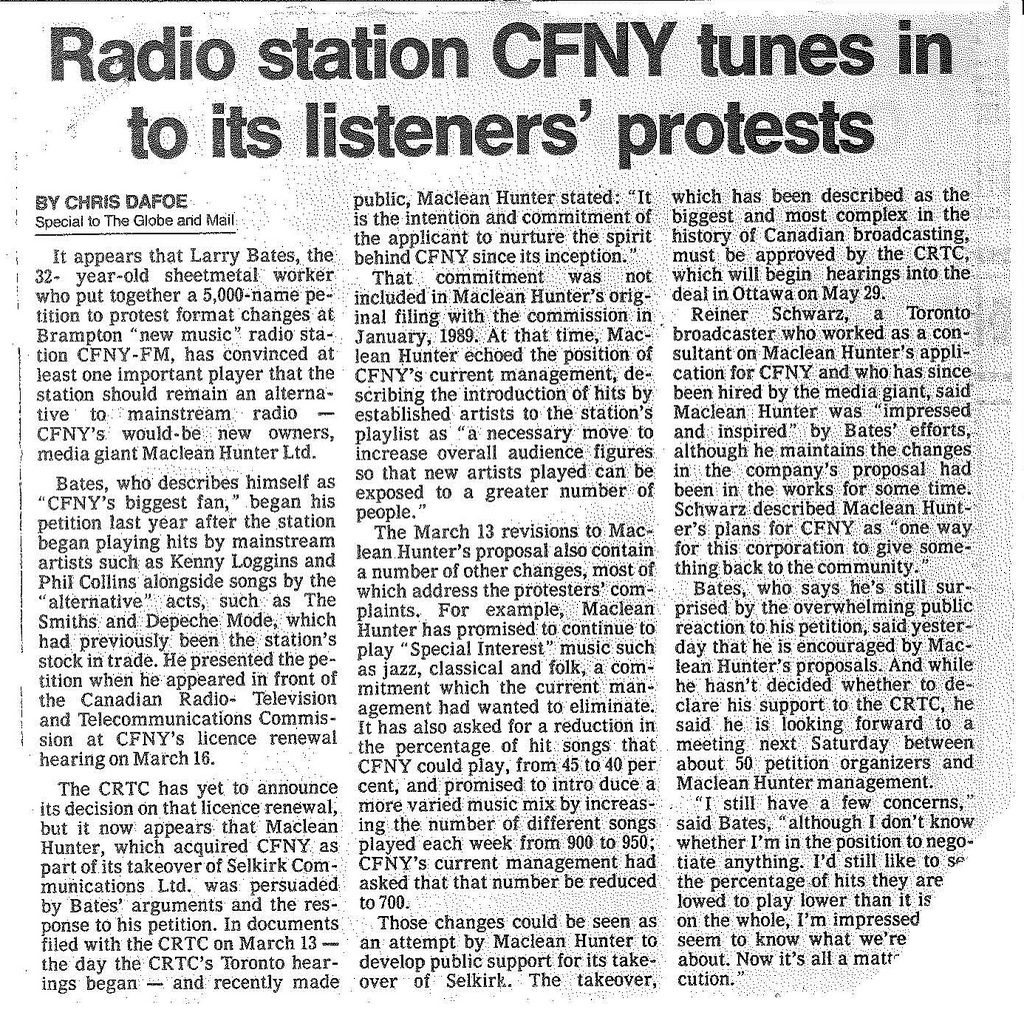 Larry became of those most vocal proponents of the "Bring Back the Spirit" campaign. In an era before the Internet and social media, Larry and like-minded listeners pulled out all the stops. There were petitions. There was an intervention written to the CRTC opposing the station's license renewal, which was due in 1989. And whenever the station held a public event, Larry was there to let his feelings be known. Always respectful, he just wanted everyone to know that he and his people were not going down without a fight.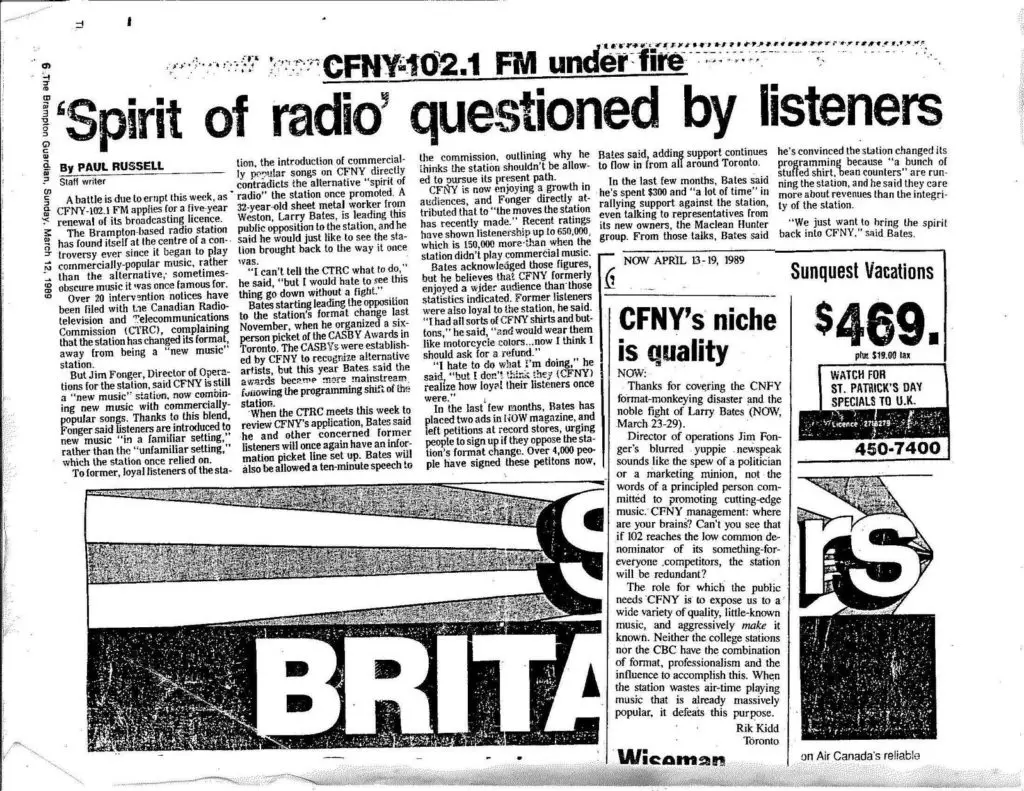 The best example of this was seen in the sky for our 1989 Canada Day festival at Molson Park in Barrie, attended by about 30,000 people. Larry led a coalition of fans to purchase a banner that was towed by an airplane over the crowd. It read "Bring Back the Spirit of Radio."
Most of the staff was secretly on Larry's side. We'd talk to him at these events, letting him know that we appreciated his efforts.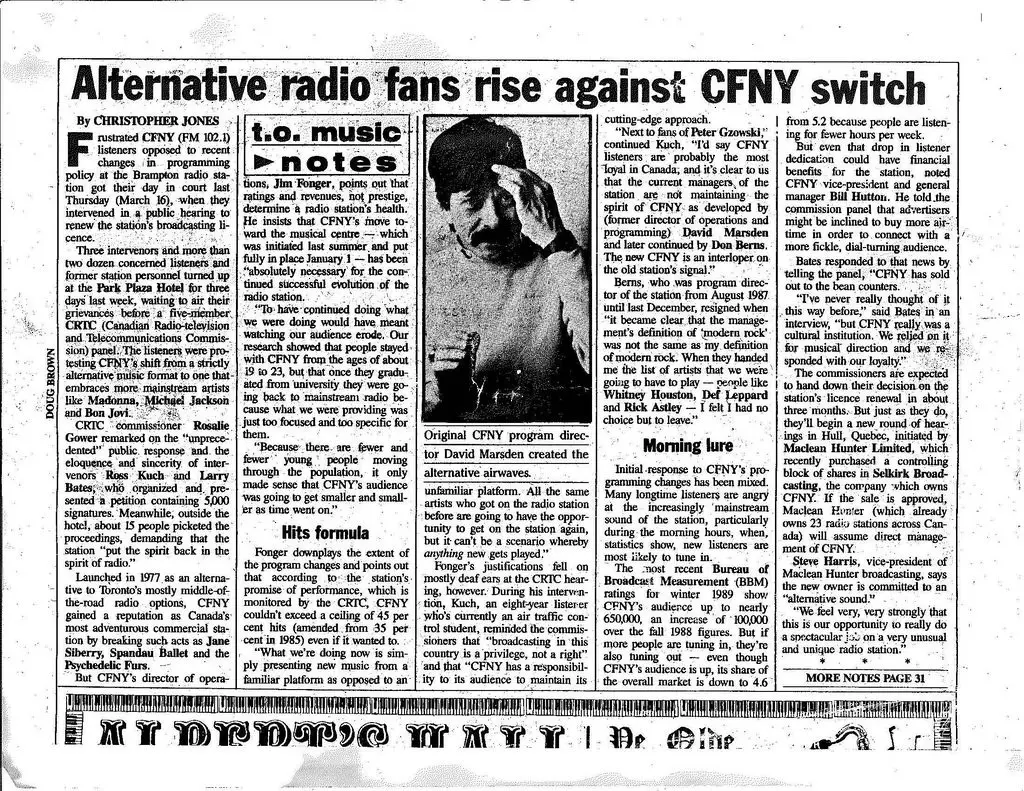 Truth be told, we engaged in subtle acts of insubordination when it came to altering the music during our shifts. Although there were new staffers hired by the rogue interim management, everyone else was determined to fight back in our own way. It was risky–I had more than a few bad attitude meetings during this period that almost saw me fired–but the passion we felt was too intense to ignore.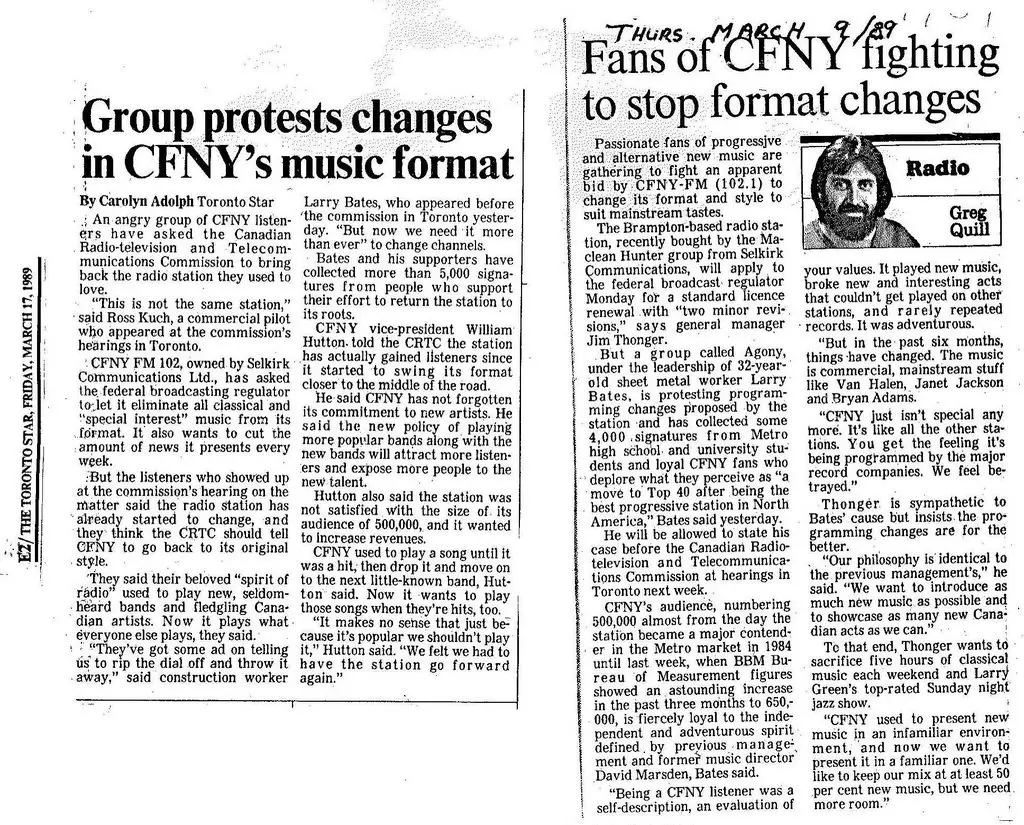 And you know something? We won. When Maclean-Hunter picked up CFNY from Rogers, the new owners were free to say how they felt about the changes to the format. Basically, they'd bought a red car but before they could pick it up, someone painted it blue. And they were really pissed that someone had painted it blue.
They also were well aware of the feelings and actions of people like Larry. I seem to recall that the incoming group met up with him and people like him to get their input on what the station had meant to them, how they felt about what it had become and what they wanted it to be.
The rogue managers were fired. New programmers were brought in and the music went back to normal. What followed was another glorious period for CFNY as it fully embraced alt-rock culture again. And when grunge hit in 1991, we turned out to be the right station at the right time.
I ran across Larry a number of times over the years and we'd talk about the big protest he led. Each time, I'd thank him for leading the charge. I honestly might not be typing these words had it not been for that massive, passionate outcry by CFNY's loyal listeners.
I write this because Larry passed away this past week, a victim of pancreatic cancer, one of the most evil and insidious forms of the The Big C. His wife Lorraine let me know in an email.
So one more time: Thanks, Larry. You have no idea how much your efforts were appreciated.