Remembering the introduction of the 45 RPM record in 1949
In June 1948, Columbia Records shocked the recorded music industry by introducing a replacement for the venerable 10-inch 78 RPM record, the standard format for selling music for almost 50 years.
The new record was made of a tough substance called polyvinyl chloride, which allowed for grooves to be cut much closer together. Combined with a larger diameter (12 inches vs. 10) and spinning slower (33 1/3 RPM vs. 78), capacity was extended from about four minutes per side to a little over 20.
Columbia offered to license the new technology to everyone, including rivals RCA. But they wanted nothing to do with the LP format, instead responded by creating their own type of vinyl record. When it was released in the spring of 1949, it was both progressive and regressive. While also made of vinyl and using microgrooves, RCA believed that the last 50 years proved that people were happy with records that contained one song per side.
But RCA realized that the LP offered up to 22 minutes before the listener had to get up and flip or change the record. Their solution was to design a proprietary turntable that allowed users to stack up to a dozen 45s on a fat spindle. Once a record finished playing, the tonearm swung away, the next record dropped onto the platter. the tonearm moved back onto the record, and the music continued.
Eventually, a balance was struck where LPs were used for "serious" music (classical, Broadcast cast records, and other music favoured by adults) while 45s were used to sell single songs. And when rock'n'roll came along in the 1950s, it proved to be the perfect format for the genre. This detente continues to this day.
But let's go back to the spring of 1949 to see how RCA sold their new type of record.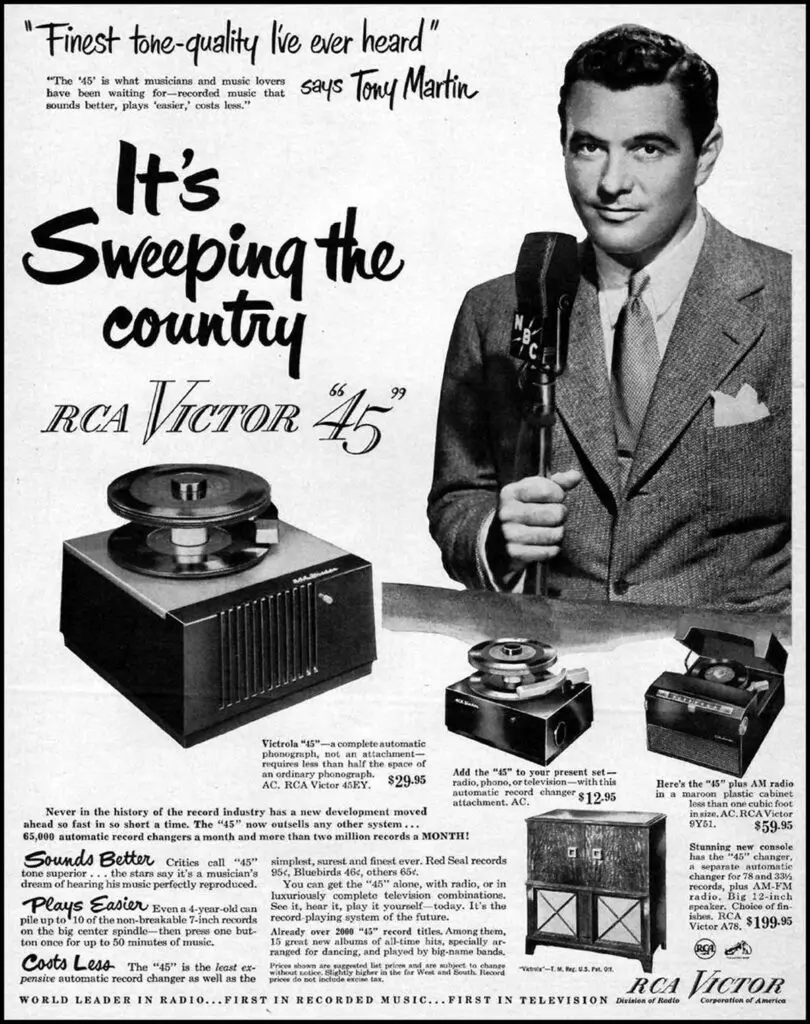 Note how early 45s were categorized by colour. Each genre was sold with different coloured vinyl