Researchers Say Pop Songs Are Getting Slower and Sadder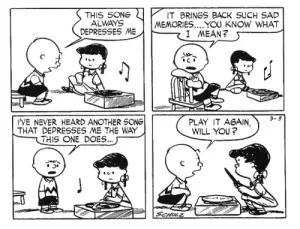 From the Vancouver Sun:
The oldies are indeed golden when it comes to music, according to a new study of more than 1,000 Top 40 songs spanning five decades.
Researchers from Canada and Germany report pop music recordings have become progressively more "sad-sounding" over time, as characterized by slower tempos and increased use of minor mode – that is, scales that evoke the same feelings one experiences when pondering orphan puppies or long-weekend gas prices.
The study found the proportion of minor-mode songs has fully doubled since the mid-1960s.
This increase comes at the expense of happier songs penned in major mode, which have gone from representing 85 per cent of top pop songs to just 42.5 per cent.
"Many people assume pop music is banal in its happiness. But most songs now are actually in minor key," says lead author Glenn Schellenberg, a professor of psychology at the University of Toronto.