Retro Fun: The Launch of the "Home Taping Is Killing Music" Campaign 35 Years Ago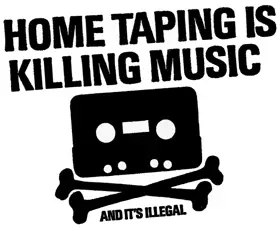 It wasn't just the Internet and Napster. The music industry has a long history of going after people they consider to be pirates and thieves. Thirty-five years ago, the big boogeyman was home taping, people who spent time recording tracks from vinyl records (in real time!) onto cassettes for their friends. Actually, it was more than that. There were plenty of screams from labels and artists that people who bought records shouldn't even make mixtapes for the car of the Walkman. "You want my music on cassette? Then buy a copy of the official cassette, goddammit!"
No, really. They actually demanded people do that. Blondie, Elton John, Gary Numan and a host of other artists jumped on the bandwagon.
The best-known anti-piracy campaign of the era was the "Home Taping Is Killing Music" project launched by some British labels in the fall of 1981. Their big concerns were (a) the rise of cassette decks in cars; (b) the tsunami of personal music devices that followed the introduction of the Walkman in 1979; and (c) the proliferation of dual cassette decks, machines that offered the ability to easily duplicate one tape onto another (at up to 2x speed!).  That tape-to-tape potential was really scary.
Naturally, this campaign left itself wide open to parody. Bow Wow Wow retaliated with a song called "C30, C60, C90, Go!" A cassette single was produced with side B left blank as a way of encouraging people to load it up with home-taped music. Their label, EMI, was not amused and refused to promote the single.
The Dead Kennedys did something similar with their 1981 EP, In God We Trust, Inc. Side two of the tape looked like this.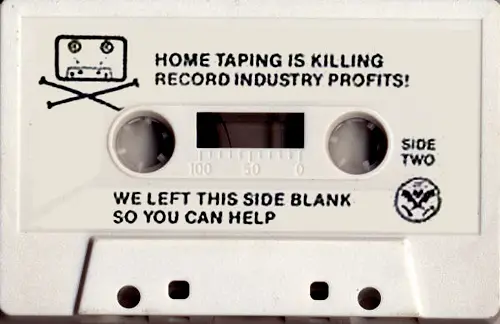 And Devo also got in on the fun.
And then there was this from Dan Bull.
One of things that came out of this hysteria was a levy on blank recordable media. Even today, there's a hidden tax on all blank cassettes sold in Canada (and a few other countries) that's redistributed to artists to compensate for any lost revenue that might have resulted from home taping. A similar levy is also hidden in the price of blank CDs.
Sidebar: When was the last time you bought a spool of CD-Rs? Or better yet, a blank cassette?
(With files from Diffuser)