Retro Soviet-era X-ray records make a comeback. Sort of.
Back in the 50s and 60s, it was very hard for Soviet kids to get their hands on music from the west. Foreign rock'n'roll was branded as part of decadent capitalistic country and was generally banned behind the Iron Curtain.
But rock fans are resilient types. They found a way around this state censorship by creating a new category of bootleg record: the roentgenizdat.
Music from smuggled vinyl was recorded onto used X-Ray film. Held up to the light, you could not only see the grooves of the music but also an image of whatever was being X-rayed, which is why some people referred to roentgenizdat as "ribs."
This is a version of "Rock Around the Clock" by Bill Haley and the Comets.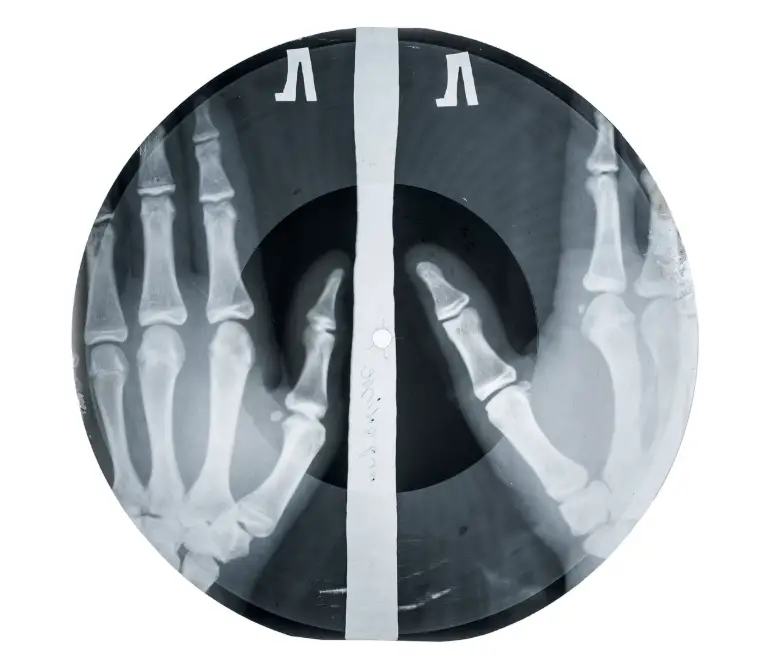 Many of these X-ray records were created by The Golden Dog Gang, which was actually just two guys: Ruslan Bogoslowski and Boris Taigin. They grabbed used X-ray film from the garbage outside Soviet hospitals (they were highly flammable, so hospitals couldn't keep them around) and used a record duplication machine to carve out the bootlegs.
Bogoslowski and Taigin were busted in 1950 and sent to a gulag until Stalin died in 1953. Once they got out, they resumed their bootleg business.
Since the fall of the USSR, roentgenizdat have become objects of fascination. This is from a site called X-Ray Audio.
Roentgenizdat is now making something of a comeback. The Library of Dangerous Thoughts has solicited unreleased music from artists like Massive Attack, Pussy Riot, Sigur Ros' Jonsi and even Noam Chomsky for released on old X-ray film cut on an old recording lathe from 1957.
These records are for sale with all proceeds going to the University of the Underground, which bills itself as "a charity offering free and transnational education for the next generation of creatives."
So far, Massive Attack's contributions are attracting the most attention. Let's have a look.
(With files from New Atlas)